Roll over image to zoom in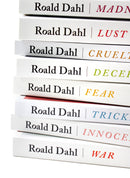 1) Deception
Why do we lie? Why do we deceive those we love most? What do we fear revealing? In these ten tales of deception master storyteller Roald Dahl explores our tireless efforts to hide the truth about ourselves. Here, among many others, you'll read about how to get away with the perfect murder, the old man whose wagers end in a most disturbing payment, how revenge is sweeter when it is carried out by someone else and the card sharp so good at cheating he does something surprising with his life.

2) Madness
Our greatest fear is of losing control - of our lives, but, most of all, of ourselves. In these ten unsettling tales of unexpected madness master storyteller Roald Dahl explores what happens when we let go our sanity. Among other stories, you'll meet the husband with a jealous fixation on the family cat, the landlady who wants her guests to stay forever, the man whose taste for pork leads him astray and the wife with a pathological fear of being late.

3) Cruelty
Lust, in all its myriad forms, consumes us. What won't we do to achieve our heart's desire? In these ten tales of twisted love master storyteller Roald Dahl explores how our darkest impulses reveal who we really are. Here you'll read a story concerning wife swapping with a sting in its tail, hear of the aphrodisiac that drives men into a frenzy, discover the last act in a tale of jilted first love and discover the naked truth of art, among others.

4) Lust
Even when we mean to be kind we can sometimes be cruel. We each have a streak of nastiness inside us. In these ten tales of cruelty master storyteller Roald Dahl explores how and why it is we make others suffer. Among others, you'll read the story of two young bullies and the boy they torment, the adulterous wife who uncovers her husband's secret, the man with a painting tattooed on his back whose value he doesn't appreciate and the butler and chef who run rings around their obnoxious employer.

5) Trickery
How underhand could you be to get what you want? In these ten tales of dark and twisted trickery Roald Dahl reveals that we are at our smartest and most cunning when we set out to deceive others - and, sometimes, even ourselves.Here, among others, you'll read of the married couple and the parting gift which rocks their marriage, the light fingered hitch-hiker and the grateful motorist, and discover why the serious poacher keeps a few sleeping pills in his arsenal.

6) War
In war, are we at our heroic best or our cowardly worst? Featuring the autobiographical stories from Roald Dahl's time as a fighter pilot in the Second World War as well as seven other tales of conflict and strife, Dahl reveals the human side of our most inhumane activity. Among other stories, you'll read about the pilot shot down in the Libyan desert, the fighter plane that vanishes inside a mysterious thick white cloud and the soldier who returns from war but has been shockingly changed by his experiences.

7) Fear
Do you enjoy being scared? Featuring fourteen classic spine-chilling stories chosen by Roald Dahl, these terrible tales of ghostly goings-on will have you shivering with fear as you turn the pages. They include such timeless and haunting stories as Sheridan Le Fanu's The Ghost of a Hand, Edith Wharton's Afterward, Cynthia Asquith's The Corner Shop and Mary Treadgold's The Telephone.

8) Innocence
What makes us innocent and how do we come to lose it? Featuring the autobiographical stories telling of Roald Dahl's boyhood and youth as well as four further tales of innocence betrayed, Dahl touches on the joys and horrors of growing up. Among other stories, you'll read about the wager that destroys a girl's faith in her father, the landlady who has plans for her unsuspecting young guest and the commuter who is horrified to discover that a fellow passenger once bullied him at school.
Payment & Security
Payment methods
Your payment information is processed securely. We do not store credit card details nor have access to your credit card information.
---
Security