Roll over image to zoom in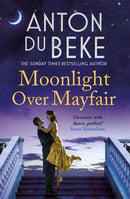 London, 1937.
With a new king in place, tensions are rising in London and across Europe. Shaken by the Great Depression and with
talk of another war coming, the Buckingham Hotel is trying to regain some stability.
Upstairs, Vivienne Edgerton is desperate to do something worthwhile with her time and her stepfather's money, rather than spending it on frivolity and debauchery - but will this land her in even more trouble?
And downstairs, chambermaid Nancy Nettleton is finally starting to feel more settled at the Buckingham, and hopes her brother will soon call London home, too. But she misses the man she loves, demonstration dancer Raymond de Guise, who is noticeably absent from the Grand Ballroom dance floor.
The staff and guests of the Buckingham soon discover that in a hotel full of secrets, there's always someone listening . . .
Payment & Security
Payment methods
Your payment information is processed securely. We do not store credit card details nor have access to your credit card information.
---
Security