Roll over image to zoom in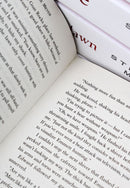 Titles in This Set
The Short Second Life of Bree Tanner
Twilight
New Moon
Eclipse
Breaking Dawn

The Short Second Life of Bree Tanner
Fans of The Twilight Saga will be enthralled by the riveting story of Bree Tanner, a character introduced in Eclipse, and the darker side of the newborn vampire world she inhabits. In another irresistible combination of danger, mystery and romance, Stephenie Meyer tells the devastating story of Bree and the newborn army as they prepare to close in on Bella Swan and the Cullens, following their encounter to its unforgettable conclusion. 'I'm as surprised as anyone about this novella,' said Stephenie Meyer. 'When I began working on it in 2005, it was simply an exercise to help me examine the other side of Eclipse, which I was editing at the time. I thought it might end up as a short story that I could include on my website. Then, when work started on The Twilight Saga: The Official Guide, I thought the Guide would be a good fit for my Bree story. However, the story grew longer than I anticipated, until it was too long to fit into the Guide.'

Twilight
When 17 year old Isabella Swan moves to Forks, Washington to live with her father she expects that her new life will be as dull as the town. But in spite of her awkward manner and low expectations, she finds that her new classmates are drawn to this pale, dark-haired new girl in town. But not, it seems, the Cullen family. These five adopted brothers and sisters obviously prefer their own company and will make no exception for Bella. Bella is convinced that Edward Cullen in particular hates her, but she feels a strange attraction to him, although his hostility makes her feel almost physically ill. He seems determined to push her away ? until, that is, he saves her life from an out of control car. Bella will soon discover that there is a very good reason for Edward's coldness. He, and his family, are vampires ? and he knows how dangerous it is for others to get too close.

New Moon
I stuck my finger under the edge of the paper and jerked it under the tape. 'Shoot,' I muttered when the paper sliced my finger. A single drop of blood oozed from the tiny cut. It all happened very quickly then. 'No!' Edward roared ...Dazed and disorientated, I looked up from the bright red blood pulsing out of my arm - and into the fevered eyes of the six suddenly ravenous vampires. For Bella Swan, there is one thing more important than life itself: Edward Cullen. But being in love with a vampire is more dangerous than Bella ever could have imagined. Edward has already rescued Bella from the clutches of an evil vampire but now, as their daring relationship threatens all that is near and dear to them, they realise their troubles may just be beginning ...

Eclipse
'Bella?' Edward's soft voice came from behind me. I turned to see him spring lightly up the porch steps, his hair windblown from running. He pulled me into his arms at once, and kissed me again. His kiss frightened me. There was too much tension, too strong an edge to the way his lips crushed mine - like he was afraid we had only so much time left to us. As Seattle is ravaged by a string of mysterious killings and a malicious vampire continues her quest for revenge, Bella once again finds herself surrounded by danger. In the midst of it all, she is forced to choose between her love for Edward and her friendship with Jacob - knowing that her decision has the potential to ignite the ageless struggle between vampire and werewolf. With her graduation approaching, Bella has one more decision to make: life or death. But which is which? Following the international bestsellers

Breaking Dawn
Breaking Dawn is the long-awaited and eagerly anticipated conclusion to the Twilight Saga! Bella has had to choose between the dark life of the immortals and pursuing a fully human life, and now that her decision has been made, a startling chain of events is about to unfold with potentially devastating consequences..
Payment & Security
Payment methods
Your payment information is processed securely. We do not store credit card details nor have access to your credit card information.
---
Security