Roll over image to zoom in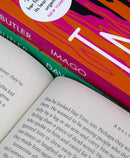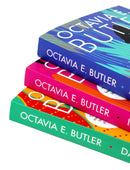 Titles:

Imago

Adulthood Rites

Dawn


Imago:

Jodahs is a child of the Earth and stars, born from the union between humans and the Oankali, who saved humanity from destruction centuries before. But Jodahs is approaching adulthood, a metamorphosis that will take him beyond gender and family, and into a great but dangerous unknown. Frightened and alone, Jodahs must come to terms with this new identity, learn to master lifechanging powers and bring together what's left of humankind - or become the biggest threat to their survival.


Adulthood Rites:

Lilith's son Akin looks like an ordinary child. His family live together on Earth, but not in complete peace. The Oankali saved humanity years before, compelled by the desire to create an extraordinary new race of children. But there are those who resist the Oankali and the salvation they offer. The first of his kind, Akin is more powerful than any other being. He understands the desire to fight for the independence of humanity. He also fears that, if left alone, humanity will destroy itself again.


Dawn:

When Lilith lyapo wakes in a small white room with no doors or windows, she remembers a devastating war, and a husband and child long lost to her. She finds herself living among the Oankali, a strange race who intervened in the fate of humanity hundreds of years before. They spared those they could from the ruined Earth, and suspended them in a long, deep sleep. Over centuries, the Oankali learned from the past, cured disease and healed the world.
Payment & Security
Payment methods
Your payment information is processed securely. We do not store credit card details nor have access to your credit card information.
---
Security