Roll over image to zoom in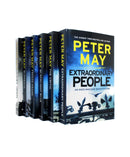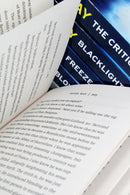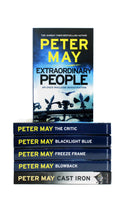 Peter May Enzo File Series Collection 6 Books Set 
Titles in this set:
The Critic
Blacklight Blue
Cast Iron
Description:
Extraordinary People
Paris. An Old Mystery. As midnight strikes, a man desperately seeking sanctuary flees into a church. The next day, his sudden disappearance will make him famous throughout France. A New Science. Forensic expert Enzo Macleod takes a wager to solve the seven most notorious French murders using modern technology - and a total disregard for the justice system. A Fresh Trail. Deep in the catacombs below the city, he unearths dark clues deliberately set - and he draws closer to the killer, discovers that he is to be the next victim.
The Critic
Gaillac, South-West France. A Bottled-Up Secret.
Gil Petty, America's most celebrated wine critic, is found strung up in a vineyard, dressed in the ceremonial robes of the Order of the Divine Bottle and picked in wine. Code to Crack. For forensic expert Enzo Macleod, the key to this unsolved murder lies in decoding Petty's mysterious reviews - which could make or break a vineyard's reputation. A Danger Unleashed. Enzo finds that beneath the tranquil facade of French viticulture lurks back-stabbing community riddled with rivalry - and someone who is ready to stop him even if they have to kill again.
Blacklight Blue
France. A Death Sentence. Diagnosed with terminal illness, Enzo Macleod is running out of time to crack the most confounding of unsolved French murders.
A Death Threat. His daughter is nearly killed, Enzo is mugged - and then he is arrested. Someone is trying to destroy his character. Someone is framing him for murder. A Deathly Enemy. Killers from the past will stop at nothing to halt Enzo, who must use all his forensic skills to solve the case - before they succeed.
Freeze Frame
ENZO MACLEOD TACKLES ONE OF FRANCE'S MOST NOTORIOUS UNSOLVED CASES, IN THE FOURTH OFFERING FROM THE SUNDAY TIMES BESTSELLING MASTER OF CRIME. ILE DE GROIX, FRANCE. A Frozen Island. This tiny isle off the coast of Brittany is the scene of a murder left shrouded in mystery and grief. A Frozen Crime. Adam Killian's study has been left intact since his death - the perfect state for Enzo Macleod's forensic investigation. A Frozen Heart
Blowback
THE FIFTH ENZO THRILLER, FROM THE BESTSELLING AUTHOR OF COFFIN ROAD, ENTRY ISLAND AND THE LEWIS TRILOGY. PUY-DE-DME, FRANCE. A Silenced Man. Footprints in the snow lead to the murder scene of Marc Fraysse, France's most celebrated chef - brutally shot before he could make the revelation of his career. A Determined Man. Seven years on and the mystery still raw, Enzo Macleod, forensic investigator, forays into the heated world of haute cuisine to uncover bitter feuds and a burning secret. A Hunted Man. The Fraysse family history is as twisted as Enzo's own. And in his pursuit of truth, the depths of deceit threaten to consume Enzo - and that which he cherishes most.
Cast Iron
In 1989, a killer dumped the body of twenty-year-old Lucie Martin into a picturesque lake in the West of France. Fourteen years later, during a summer heatwave, a drought exposed her remains - bleached bones amid the scorched mud and slime.
Payment & Security
Payment methods
Your payment information is processed securely. We do not store credit card details nor have access to your credit card information.
---
Security