Roll over image to zoom in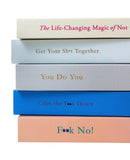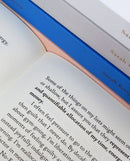 Titles In this Set:
The Life-Changing Magic of Not Giving a F**k
Get Your Sh*t Together
You Do You
Calm the F**k Down
F**k No!
The Life-Changing Magic of Not Giving a F**k
This irreverent and practical book explains how to rid yourself of unwanted obligations, shame, and guilt - and give your f**ks instead to people and things that make you happy. From family dramas to having a bikini body, the simple 'Not Sorry Method' for mental decluttering will help you unleash the power of not giving a f**k and will free you to spend your time.


Get Your Sh*t Together
In The Life-Changing Magic of Not Giving a F**k, 'anti-guru' Sarah Knight introduced the joys of mental decluttering. Get Your Sh*t Together takes you one stop further - organizing the f*cks you want and need to give to help you quit your day job and move abroad.


You Do You
Being yourself should be the easiest thing in the world. Yet instead of leaning in to who we are, we fight it, listening too closely to what society tells us. You Do You helps you shake off those expectations, say f**k perfect, start looking out for number one and keep on with your badass self.


Calm the F**k Down
When life hands you a big fat f**king lemon, Calm the F**k Down gives you practical ways to manage the situation, not to mention your anxiety about the situation. One hundred per cent practical and zero percent Pollyanna-ish, this is a book that acknowledges all the bad shit that can and probably will happen to you.


F**k No!
For Sarah, saying no is easy. For the rest of us, it's stress-inducing, blood pressure-raising, teeth-grinding hard. But it doesn't have to be. F**k No! is filled with tips, techniques, and practical strategies that will arm you with not only permission to decline.
Payment & Security
Payment methods
Your payment information is processed securely. We do not store credit card details nor have access to your credit card information.
---
Security