Roll over image to zoom in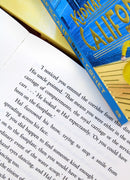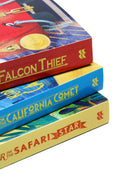 Titles In This Set:
Murder on the Safari Star
Kidnap on the California Comet
The Highland Falcon Thief


Murder on the Safari Star
Harrison Beck and his Uncle Nat are on the journey of a lifetime aboard the Safari Star – a luxurious steam train that will take them from Pretoria to the stunning Victoria Falls. Close encounters with the amazing animals and landscape of Southern Africa are adventure enough, but things get mysterious when a passenger is found dead inside a locked compartment. Is it just a terrible accident or is something more suspicious afoot? It's up to train detective Hal and his new friend Winston to find out.
Kidnap on the California Comet
After the excitement of his adventures aboard the Highland Falcon Thief, Harrison Beck can't wait for the opportunity to go on another amazing train journey. So when his Uncle Nat invites him aboard the California Comet, the iconic three-day train journey from Chicago to San Francisco, he leaps at the chance to travel. But when the daughter of billionaire entrepreneur August Reza goes missing en route, Hal finds himself with another mystery to solve. Can he uncover the kidnapper before the journey's end?
The Highland Falcon Thief
Harrison Beck is reluctantly joining his travel-writer Uncle Nat for the last journey of the royal train, The Highland Falcon. But as the train makes its way to Scotland, a priceless brooch goes missing, and things are suddenly a lot more interesting. As suspicions and accusations run high among the passengers, Harrison begins to investigate and uncovers a few surprises along the way. Can he solve the mystery of the jewel thief and catch the culprit before they reach the end of the line?
Payment & Security
Payment methods
Your payment information is processed securely. We do not store credit card details nor have access to your credit card information.
---
Security