Roll over image to zoom in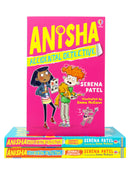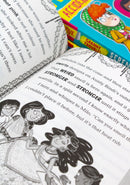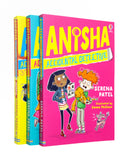 Titles In This Set:
Anisha, Accidental Detective
School's Cancelled!
Granny Trouble!
Anisha, Accidental Detective
Anisha is all set to be a (reluctant) bridesmaid at Aunty Bindi's wedding...until a secret ransom note arrives. Bindi's groom has been kidnapped and will only be released IF THE WEDDING IS CALLED OFF! With best friend Milo, mischievous Granny Jas, a runaway lobster, a kitten-loving giant, and some super skills of logic and observation, it's up to Anisha Mistry to find her uncle, before the big family wedding of the year becomes a big disaster.

School's Cancelled!
Anisha can't wait to show off her volcano project at the science fair...and maybe win the prize trip to the national space centre. But when the volcano explodes and floods the school, Anisha is disqualified. It's so unfair, because it wasn't her fault! Can Anisha, her best friend Milo, a pet rat, and a high-school vlogger catch the culprit?

Granny Trouble!
Milo and I have been looking forward to this half-term for what feels like FOREVER - we're finally going to the National Space Centre, to meet a real-life space engineer! My whole family wanted to tag along and visit a festival first, where this super-famous, mega-expensive diamond is on display. But guess what? The diamond has been STOLEN! And the police think MY GRANNY did it so she's in serious TROUBLE. Someone needs to prove Granny Jas is innocent, so it looks like Milo and I might need to go UNDERCOVER. It's lucky I'm Anisha, Accidental Detective!
Payment & Security
Payment methods
Your payment information is processed securely. We do not store credit card details nor have access to your credit card information.
---
Security