Roll over image to zoom in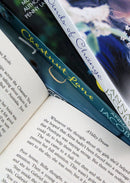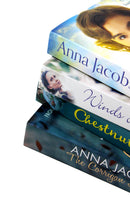 Titles In This Set:
A Valley Dream
Winds Of Change
Chestnut Lane
The Corrigan Legacy
A Valley Dream:1935.
 At thirty-six, Bella Porter is dependent on her abusive cousin, acting as an unpaid servant. When a kind relative leaves her a house in the village of Backshaw Moss, Thomas tries to take it from her, but she defies him and grasps this chance of a new start in Lancashire.

Winds Of Change:
When her elderly father dies, Miranda Fox is free at last. He's promised an inheritance that will give her independence. But her domineering half-brother controls the money and has very different ideas as to how she should live her life. A new friend helps Miranda take the first steps towards freedom, but her actions uncover painful secrets from the past which still have the power to hurt. Her sister escaped the family by leaving Australia. Can Miranda do the same?

Chestnut Lane:
'A pacy page-turner with a ripping plot and characters you care about' 
Daily Mail
When novelist Sophie Carr rescues a man from a group of paparazzi, she finds that her new neighbour is ageing pop star Jez Winter. She has loved his music for years and knows he has had a tough time lately, with a violent intruder and then a car accident putting his ability to play music at risk. Life's not been easy for Sophie either, losing her husband just as she was taking off as a novelist and having her hands full with her children. While Jez and Sophie's families continue to complicate their lives, Sophie also has a secret to hide. One that makes her very wary of getting involved with Jez ..

The Corrigan Legacy:
Childless Maeve Corrigan, though rich and successful, is dying of cancer. She wants to leave her business empire to one of the offspring of her two estranged brothers, Des and Leo. But which young relative should she choose? Des has four children and he is overstretched financially. Leo is the unambitious owner of a hardware store in a remote Australian town and has two children.

Payment & Security
Payment methods
Your payment information is processed securely. We do not store credit card details nor have access to your credit card information.
---
Security