Roll over image to zoom in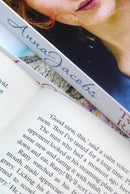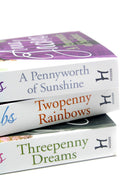 Titles In This Set:
Twopenny Rainbows
Threepenny Dreams
A Pennyworth of Sunshine


Twopenny Rainbows

In 1863 the authorities send Irish orphans Ismay and Mara to Australia against their will. Worse, on arrival they're separated from one another. While Ismay is forced to take a job as a maid, miles away in the country, Mara must stay in the care of the catholic mission. Desperate to be reunited, they both run away but Ismay soon runs into danger out in the bush. She is saved by Malachi Firth, but although he's attracted to her, he doesn't want to be encumbered with a wife.
Meanwhile, their elder sister Keara has not forgotten them. However, she has had her own struggles to face and by the time she reaches Melbourne she finds that the trail is cold. Danger continues to threaten all three sisters. Will they ever find one another again?


Threepenny Dreams

Recently widowed, Hannah Firth is still young - young enough to dream of a new life. When her spiteful daughter-in-law uses her as an unpaid servant, Hannah tries to leave, but she is unaware of the depths that Patty's spite will lead her to.
Nathaniel King's life is ruined when his landlord's son lays waste to his market garden for a prank - and the resulting feud puts Nathaniel's livelihood at stake.
Hannah has only a few coins and dreams of a happier future to sustain her as she tramps the roads and evades pursuit. When she meets Nathaniel, the attraction between them cannot be denied and they join forces. But their enemies have money and powerful allies on their side and will stop at nothing to get rid of them.


A Pennyworth of Sunshine

Keara Michaels doesn't want to leave her family in Ireland, but fate sends her first to Lancashire, then across the sea to Australia, pregnant and penniless. And Theo Mullane, the man who loves her, is married, with an ailing baby son, so cannot follow her as he longs to.
Mark Gibson leaves Lancashire to avoid marriage. But gold prospecting is a dangerous pursuit, and when his gentle young wife dies in childbirth, his father-in-law kidnaps the baby. So Mark runs away again, this time to Western Australia, where he employs Keara in his country inn.
But danger threatens them all, even in the bush, as Keara searches for her lost sisters, Theo comes looking for the woman he loves, and Mark at last confronts his past.
Payment & Security
Payment methods
Your payment information is processed securely. We do not store credit card details nor have access to your credit card information.
---
Security