Roll over image to zoom in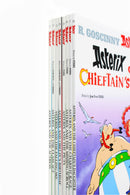 Asterix and the Actress:
Asterix and Obelix are celebrating their joint birthday party back in the Gaulish village - and some surprise guests have been invited! Meanwhile, Julius Caesar has to deal with his old enemy Pompey, who is looking for supporters among the legions stationed in Gaul.
Asterix and The Class Act:
Vintage Asterx!14 new stories including tales of:The day Asterix and Obelix were born (in the middle of a village fish fight);How Obelix goes back to school.
Asterix and The Falling Sky:
The Gauls have only one fear: that the sky may fall on their heads tomorrow. But tomorrow never comes, says Chief Vitalstatistix.
Asterix and Obelix's Birthday:
A collection of 12 new stories - all linked by the theme of Asterix's anniversary celebration.
Asterix and The Picts:
When Asterix and Obelix rescue a mysterious Pict named MacAroon, they must journey to Caledonia, now Scotland, to return him to his lady love, Camomilla, the adopted daughter of the old king.
Asterix and The Missing Scroll:
Julius Caesar has finished writing the history of his campaigns in Gaul. His publisher, Libellus Blockbustus, foresees a huge success ... but there's a snag.
Asterix and The Chariot Race:
The roads across Italy are in disrepair. Defending his name, and to prove Rome's greatness, Senator Lactus Bifidus announces a special one-off chariot race.
Asterix And The Chieftain's Daughter:
Reading books is a kind of enjoyment. Reading books is a good habit. We bring you a different kinds of books. You can carry this book where ever you want.
Payment & Security
Payment methods
Your payment information is processed securely. We do not store credit card details nor have access to your credit card information.
---
Security