Roll over image to zoom in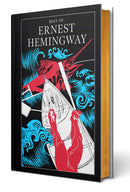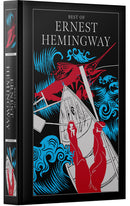 Dive into the masterful prose of one of the 20th century's greatest literary voices with the "Best of Ernest Hemingway" leatherbound book.
Ernest Hemingway's writing is characterized by its concise yet evocative style, capturing the essence of human experience with raw and vivid language. His exploration of war, love, adventure, and the human condition has left an indelible mark on literature. With this leatherbound edition, readers can savor the beauty of his prose in a form that is as timeless as the stories themselves.
The rich leather binding, gilt-edged pages, and elegant design of this book make it a true collector's item, a centerpiece for your library, or a thoughtful gift for literature enthusiasts. Immerse yourself in the world of Ernest Hemingway and his literary classics, experiencing the profound impact of his storytelling in this beautifully crafted edition. Whether you're a long-time fan or discovering Hemingway for the first time, this collection is an ode to his enduring legacy in the world of literature.
Payment & Security
Payment methods
Your payment information is processed securely. We do not store credit card details nor have access to your credit card information.
---
Security