Roll over image to zoom in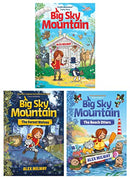 Titles In This Set:

Big Sky Mountain
The Forest Wolves
The Beach Otters


Introduction:

Escape to the captivating wilderness of the Big Sky Mountain Series - 3 Books.
Immerse yourself in a heartwarming saga of love, family, and resilience set against the breathtaking backdrop of the untamed mountains. Follow the unforgettable journeys of diverse characters as they navigate through life's trials and triumphs, forging unbreakable bonds along the way. With a perfect blend of romance, adventure, and drama, this enchanting series promises to sweep you off your feet and transport you to a world of endless possibilities. Discover the magic of Big Sky Mountain today!
Description:

Big Sky Mountain:

Rosa has come from the city to live with Grandma Nan in the wilds of Big Sky Mountain. And what surprises are in store for her! Grandma Nan is not exactly an ordinary grandma, and Big Sky Mountain is like nowhere Rosa has dreamed about before. Grandma Nan lives in an old wooden cabin with Albert the moose and Little Pig the pygmy owl, and spends every day out on adventures. From canoeing down rapids to making friends with the local animals, life never stays still for long on Big Sky Mountain!


The Forest Wolves:

There is never a dull day on Big Sky Mountain! Rain or shine, there is always something that needs doing. Rosa and Grandma Nan are busy building a bigger cabin when a storm strikes, and a host of animals descend for shelter. There is one unexpected visitor: a tiny wolf cub. This little wolf doesn't seem like the scary, giant-fanged forest wolves that Rosa has heard about! Can the cub really be part of their pack?


The Beach Otters:

Life never stays still for long on Big Sky Mountain. Rosa and Grandma Nan are off on an adventure to Toe-Dipper Bay, to see who's in trouble - a distress flare has gone up! When they arrive they find the beach covered in plastic rubbish, and a family of beach otters farming seaweed, while doing their best to tidy up. Rosa and Grandma Nan join in, but they have to find out who sent the distress flare - because who is that wrecked out at sea?


Payment & Security
Payment methods
Your payment information is processed securely. We do not store credit card details nor have access to your credit card information.
---
Security