Roll over image to zoom in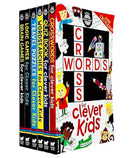 Introduction 
The "Brain Games Clever Kids" collection is a set of six engaging books designed to stimulate young minds and promote cognitive development through a variety of entertaining puzzles. Here's a summary of each book in the collection:
Titles in this Set:
Crosswords
Quiz Book
Wordsearches
Travel Puzzles
Logic Games
Brain Games
Description 
Crosswords: This book challenges young readers with a collection of crosswords that not only provide entertainment but also encourage the development of vocabulary and critical thinking skills. It's a fun and educational way for kids to expand their word knowledge.

Quiz Book: Packed with quizzes covering a wide range of topics, the Quiz Book in this collection offers an interactive and enjoyable way for kids to test their general knowledge. From science to geography, the quizzes provide a diverse learning experience.

Wordsearches: Filled with word searches that vary in difficulty, this book helps children enhance their concentration, observation, and pattern recognition skills. The word searches cover different themes, making learning fun and engaging.

Travel Puzzles: Perfect for on-the-go entertainment, this book offers a variety of puzzles suitable for travel. From crosswords to word searches, these puzzles keep young minds active during journeys while promoting problem-solving skills.

Logic Games: Designed to enhance logical thinking and reasoning skills, this book presents a series of logic games and puzzles. Through challenges that require deductive reasoning, kids can strengthen their cognitive abilities in an entertaining way.

Brain Games: The final book in the collection brings together a mix of brain teasers, puzzles, and games that stimulate various aspects of cognitive function. From memory challenges to visual puzzles, this book offers a holistic approach to brain development for clever kids.
Overall, the "Brain Games Clever Kids" collection provides a comprehensive and entertaining platform for children to engage with puzzles that promote learning, critical thinking, and cognitive development in a fun and interactive way.
Payment & Security
Payment methods
Your payment information is processed securely. We do not store credit card details nor have access to your credit card information.
---
Security