Roll over image to zoom in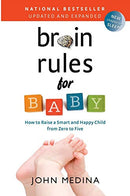 Brain Rules for Baby bridges the gap between what scientists know and what parents practice. Through fascinating and funny stories, Medina, a developmental molecular biologist and dad, unravels how a child's brain develops – and what you can do to optimize it.
You will view your children—and how to raise them—in a whole new light. You'll learn:

Where nature ends and nurture begins
Why men should do more household chores
What you do when emotions run hot affects how
your baby turns out, because babies need to feel safe
above all
TV is harmful for children under 2
Your child's ability to relate to others predicts her
future math performance
Smart and happy are inseparable. Pursuing your child's
intellectual success at the expense of his happiness
achieves neither
Praising effort is better than praising intelligence
The best predictor of academic performance is not
IQ. It's self-control
What you do right now—before pregnancy, during pregnancy, and through the first five years—will affect your children for the rest of their lives. Brain Rules for Baby is an indispensable guide.
Payment & Security
Payment methods
Your payment information is processed securely. We do not store credit card details nor have access to your credit card information.
---
Security