Roll over image to zoom in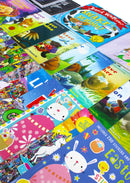 Collections in this bundle:
Single Book (Hardback)
There's snakes in my School By David Walliams 
Easter Egg 2 Books Children Collection
Easter Egg Colouring Book 
Easter Egg Sticker Activity Fun Book
Little Princess 10 Books Set Collection
I Want a Shop!
I Want My New Shoes!
I Don't Want a Cold!
Can I Keep It?
I Don't Want To Comb My Hair!
I Want To Be a Pirate!
I Want My Tent!
I Want To Be Tall!
I Want a Trumpet!
I Want My Sledge!
Tales from the Haunted Mansion Series 3 Books Set
Grim Grinning Ghost
Midnight at Madame Leota's
The fearsome foursome
Mr Wrinkles

Frog On The Log

Hen's Feather 

Stop Monkeying Around  

Titch the Tiddler 

Pig's Egg

The Goat That Gloats

Little Bear Won't Sleep

Animal Fashion Parade 

The Penguin King 
Why I Love 10 Picture Flat Books Children Collection
Why I Love My Grandpa
Why I Love My Grandma
Why I Love My Daddy
Why I Love My Mummy
Why I Love My Sister
Why I Love My Brother
Why I Love My Friends
Why I Love School
Why I Love The Moon
Why I Love Bedtime
Where's The Unicorn 4 Book Set Collection Pack Activity
Where's The Unicorn

Where's The Llama

Where's The Unicorn Now

Where's The Elf
Payment & Security
Payment methods
Your payment information is processed securely. We do not store credit card details nor have access to your credit card information.
---
Security