Roll over image to zoom in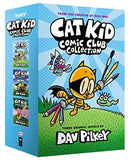 The "Cat Kid Comic Club" collection by Dav Pilkey consists of three books: "Cat Kid Comic Club," "Cat Kid Comic Club: On Purpose," and "Cat Kid Comic Club: Perspective."
Titles in this Set:
Cat Kid Comic Club
Cat Kid Comic Club: On Purpose
Cat Kid Comic Club: Perspective
Description
In the first book, "Cat Kid Comic Club," readers are introduced to a group of young artists who form a comic-making club. Led by Li'l Petey, a character from Pilkey's Dog Man series, the kids explore their creativity and collaborate to create their own comics. The book celebrates the joy of storytelling, friendship, and self-expression through art.
The second book, "Cat Kid Comic Club: On Purpose," continues the adventures of the club members as they tackle new challenges in their comic-making journey. They learn important lessons about determination, teamwork, and perseverance. The characters explore themes of setting goals and working together to achieve them while having fun along the way.
The third book, "Cat Kid Comic Club: Perspective," delves into the concept of perspective in both art and life. The characters experiment with different artistic styles and viewpoints to tell their stories. This book encourages readers to think creatively, step into the shoes of others, and understand the power of seeing things from various angles.
Throughout the collection, Dav Pilkey combines engaging storytelling with vibrant illustrations, humor, and relatable characters to inspire young readers to embrace their imagination, build meaningful friendships, and discover the magic of creating art. The books promote important values such as creativity, friendship, determination, and empathy while encouraging readers to explore their artistic abilities and view the world from different perspectives.
Payment & Security
Payment methods
Your payment information is processed securely. We do not store credit card details nor have access to your credit card information.
---
Security