Roll over image to zoom in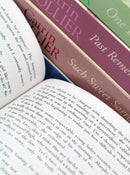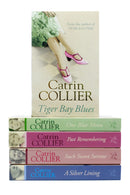 Titles In this Set:
A Silver Lining
Past Remembering
One Blue Moon
Such Sweet Sorrow
Tiger Bay Blues

A Silver Lining
In strictly chapel Pontypridd in 1938, tongues are quick to wag when Alma Moore, abandoned by her lover, is rushed to hospital with stomach pains. The doctor may call it appendicitis, but the scandal-mongers think they know better. And then Bethan John, who's too good for the rest of them since she married a doctor, comes back to her mining family's house with her new baby - but without her husband, or any word of explanation.

Past Remembering
He accepts the rights and freedoms of his younger siblings as he never has before, and even finds time to help others, particularly Alma, whose husband has been sent on a most dangerous mission. After the loss of his beloved wife, Ronnie is certain he will never look at a woman again; he certainly doesn't expect to fall in love - particularly with the wife of a friend...Diana is locked in an unhappy marriage - but can Ronnie and Diana put their own personal happiness ahead of that of an entire family?

One Blue Moon
Maud Powell and her cousin Diana had always dreamed of becoming nurses, but their hopes are shattered when Maud contracts TB - a death sentence in 1930s' Pontypridd. With pits closing, Haydn abandoning a steady job for a stage career, and their cousin Diana's secret burden, the Powell family are facing hard times. Meanwhile Ronnie Ronconi, eldest of the large, café-owning family, has two simple beliefs: his sisters must marry good Italian Catholics, and determination and hard work will get him anything he wants.

Such Sweet Sorrow
In Pontypridd, in 1939, blackouts and conscription are beginning to strain the community. And three women are separated - perhaps for ever - from the men they love. Jenny Powell's husband, Eddie, abandoned her on her wedding night, and she must struggle to cope alone. Italian Tina Ronconi's sweetheart enlists, and she and her sister face internment as enemy aliens. And Bethan's doctor husband is called up, leaving her, along with all the women, with endless worry and fear. Forced to adjust to a world at all, all they can do is wait.

Tiger Bay Blues
The church sends Peter to Butetown, a multi-racial dockland area of Cardiff, commonly known as Tiger Bay. There Edyth and Peter encounter rich cultures from all corners of the world that flourish even in the depression ridden conditions of desperate poverty. It is a society where creed, language and the colour of a family's skin doesn't matter - as long as the borders that separate Tiger Bay from the city aren't crossed.
Payment & Security
Payment methods
Your payment information is processed securely. We do not store credit card details nor have access to your credit card information.
---
Security