Roll over image to zoom in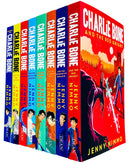 RRP: £47.92
Brand New

Titles in This Set
Midnight for Charlie Bone
Charlie Bone & Time Twister
Charlie Bone & Blue Boa
Charlie Bone & Castle of Mirrors
Charlie Bone & Hidden King
Charlie Bone & Wilderness Wolf
Charlie Bone & Shadow of Badlock
Charlie Bone & Red Knight

Description

Midnight for Charlie Bone
Since his father died, Charline Bone has lived with his mother and her mother, in the house of his other grandmother, Grandma Bone. Looking at a picture of a couple with a baby and a cat, he suddenly discovers he can hear their voices. Although he tries to hide his new gift, Grandma Bone and her scary sisters soon find out, and send him to Bloor's Academy. Charlie quickly finds life at Bloor's pretty tough, with its strict rules and the malevolent head boy, Manfred, set against him. When Charlie discovers that the child in the photograph is being help, hypnotised, against her will, he and his new friends with 'gifts' try to awaken her. But can they overcome Manfred's sinister hypnotic gifts?

Charlie Bone & Time Twister
On the coldest night in memory, Henry Yewbeam's cousin Zeke tricks him into using the Time Twister, a beautiful marble full of shining colours that draws him into the future. In January 2002, Charlie meets Henry reappearing at Bloor's in the twenty-first century, and realises Henry's cousin is none other than old Ezekiel Bloor. Charlie and Fidelio are joined by Cook and the Flames in their attempts to hide Henry from Ezekiel's spies. But Manfred captures Henry, and although Mrs Bloor tried to save him, she vanishes with the Time Twister. With the help of the endowed, Charlie must enter the portrait of Skarpo the sorceror and retrieve the wand of a Welsh wizard.

Charlie Bone & Blue Boa
Charlie's uncle Paton has dashed off to try to stop the Yewbeam aunts' latest plan, but when Grandma Bone greets the arrival of Belle with delight, could this be what Paton left hoping to prevent? At Bloor's, Emma finds art teacher Mr Boldova is the brother of the mysterious Ollie Sparks, made invisible by the blue boa. Belle joins the more nastily endowed, and Charlie realises she is Yolanda, and evil shapeshifter who brought up Charlie's nasty aunts. She wipes Mr Boldova's mind, leaving only his rat, Rembrandt, to tell Billy Raven what's happened. Soon Charlie will have to face the terrible sorcerer Skarpo again to free his friend.

Charlie Bone & Castle of Mirrors
Charlie and his friends are back in danger, and the balance of power between the Children of the Red King has never been more dangerous. Billy finally gets his longed-for parents, but he soon wishes he hadn't when the oaths he's forced to sign come flying through the air at him. Charlie is haunted by a ghostly horse, mad with rage over an ancient wrong that happened in the sparkling Castle of Mirrors. The castle was petrified from stone into glass by the sorcerer Yorath in a terrible fire. Charlie's friend Olivia is haunted too - but no one knows her new secret. Even with the power of Tancred's storms and Lysander's ancestors, Charlie Bone is running short of allies - just when he needs them most.

Charlie Bone & Hidden King
Charlie Bone awakes one morning to find the city covered with snow and all the animals gone. Where have they gone - and why? Blessed the dog tells Billy there was a terrible shuddering on the earth and immediately after, he saw a witch with two shadows crossing the hall in Bloor's Academy. Could the discovery of an ancient mirror, and the movement of the shadow in the Red King's portrait have something to do with it? Then a strange girl appears outside Charlie's house. She tells him he must follow her to find the animals. Can he trust her, and will she perhaps lead him to find someone he lost long before the animals?

Charlie Bone & Wilderness Wolf
Charlie Bone has finally found his father, but he's disappeared again. However, this time Charlie knows where he is - on a second honeymoon with his mother. But there's no time to miss them, for there's a strange salty mist in the air, and chilling howls in the night. And someone has been searching Charlie's house. What are they looking for? And could Dagbert, the new boy with pale lips and cold aquamarine eyes, have something to do with it? And could Dagbert, the new boy with the power of harnessing water, whose father has Cook so rattled she's threatening to leave the school. The new boy who sticks so closely to Charlie, his friends are almost driven away. Something is going on - and the Bloors have to be behind it. Charlie and his friends must find the creature who howls so desperately. But will they be in time?

Charlie Bone & Shadow of Badlock
The enchanter Count Harken - the shadow in the painting of the Red King - is back and determined to stop Billy from discovering a life-changing family secret. His incredible power reaches out from the dark, magical land of Badlock, through space and time, to wreak revenge on Charlie and his friends. Charlie's ancestor, Otus Yewbeam, has been imprisoned in Badlock by Count Harken. Otus is a giant, married to Amoret, the Red King's daughter. But he is no match for the shadow's troll army, led by the sinister Oddthumb. Charlie is sucked into a painting of Badlock and tries to rescue Otus, and reunite him with Amoret. But can he outwit the troll army? And what about poor Runner Bean, who follows him? Meanwhile, Charlie's allies are under attack too. The Onimouses are forced to close the Pets' Cafe, Billy is under Count Harken's spell, and Dagbert-the-drowner seeks power over Tancred. There is a terrible battle in Bloor's Academy, with fatal consequences. Charlie will need all the luck he can get to outwit the powerful shadow of Badlock..

Charlie Bone & Red Knight
Join Charlie Bone as he discovers the truth about the Red King, and the key to his own past. Charlie must stop the evil Bloors, and his only hope is the mysterious Red Knight.
Payment & Security
Payment methods
Your payment information is processed securely. We do not store credit card details nor have access to your credit card information.
---
Security