Roll over image to zoom in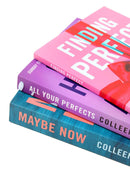 Titles In this Set:
Finding Perfect 
All Your Perfects
Maybe Now

Finding Perfect 
Friends Daniel, Six, Holder, Sky, and Breckin are planning to celebrate the upcoming Thanksgiving holiday with a Friendsgiving dinner at Sky's parents' house.
But things have been off within the tightknit group and when Daniel reaches out to Six to ask the hard questions he hasn't dared to bring up since they last spoke about their shared secret, he's dismayed to learn that it's this very secret bringing a cloud over the holiday. Suddenly, Daniel must do everything he can to find answers for the one person he loves the most in the world, but will this search only lead to despair.
All Your Perfects
1 New York Times bestselling author of It Ends with Us—whose writing is "emotionally wrenching and utterly original" (Sara Shepard, New York Times bestselling author of the Pretty Little Liars series)—delivers a tour de force novel about a troubled marriage and the one old forgotten promise that might be able to save it.

Quinn and Graham's perfect love is threatened by their imperfect marriage. The memories, mistakes, and secrets that they have built up over the years are now tearing them apart. The one thing that could save them might also be the very thing that pushes their marriage beyond the point of repair.
Maybe Now
What is more important? Friendship, loyalty, or love?
Ridge and Sydney are thrilled to finally be together guilt-free. But as the two of them navigate this freedom, Warren and Bridgette's relationship is as tumultuous as ever, and Maggie grapples with her illness.
When she comes across an old list of things she wanted to do "maybe one of these days," Maggie decides to live life to the fullest and accomplish these dreams. Maggie keeps Ridge updated on her adventures, but he can't help but worry, even as Sydney grows more and more suspicious about their friendship. But if she's going to move past this jealousy, she'll need to reconcile how she and Ridge came together with the fact that Maggie will always be in their lives somehow...or end up walking away from the man she loves so much.
Payment & Security
Payment methods
Your payment information is processed securely. We do not store credit card details nor have access to your credit card information.
---
Security