Roll over image to zoom in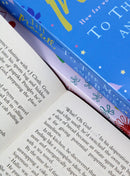 Titles in This Set:
Three Amazing Things About You
Making Your Mind Up
To The Moon and Back
Three Amazing Things About You
Jill Mansell's enchanting new novel will drive readers to seize life with both hands and make the most of every minute... Hallie has a secret. She's in love. He's perfect for her in every way, but he's seriously out of bounds. And her friends aren't going to help her because what they do know is that Hallie doesn't have long to live. Time is running out... Flo has a dilemma.
Making Your Mind Up
Lottie Carlyle isn't looking for love when she meets her new boss, Tyler Klein. Living in a beautiful cottage with her two adorable - sometimes - kids in an idyllic village in the Cotswolds, on good terms with her ex-husband and with friends all around, she's happy enough with her lot. But Tyler's perfect for Lottie and quickly she falls for him - and he for her. Unfortunately, there's a problem.
To The Moon and Back
When Ellie Kendall tragically loses her husband she feels her life is over. But eventually she's ready for a new start - at work, that is. She doesn't need a new man when she has a certain secret visitor to keep her company... Moving to North London, Ellie meets neighbour Roo who has a secret of her own. Can the girls sort out their lives? Guilt is a powerful emotion, but a lot can happen in a year in Primrose Hill...
Payment & Security
Payment methods
Your payment information is processed securely. We do not store credit card details nor have access to your credit card information.
---
Security