Roll over image to zoom in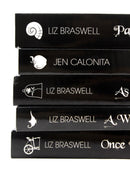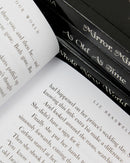 Titles in this set:
Disney Twisted Tales: Once Upon a Dream
Disney Twisted Tales a Whole New World Novel
Disney A Twisted Tale: As Old As Time
Disney A Twisted Tale: Mirror, Mirror
Disney A Twisted Tale: Part of Your World

Description

Disney Twisted Tales: Once Upon a Dream
What if the sleeping beauty never woke up? It should be simple - a dragon defeated, a slumbering maiden, a prince poised to wake her. But when said prince falls asleep as soon as his lips meet the princess's, it is clear that this fairy tale is far from over. With a desperate fairy's last curse infiltrating her mind, Princess Aurora will have to navigate a dangerous magical landscape deep in the depths of her dreams. Soon she stumbles upon Phillip, a charming prince eager to join her quest. But with Maleficent's agents following her every move, Aurora struggles to discover who her true allies are, and more importantly, who she truly is. Time is running out. Will the sleeping beauty be able to wake herself up?

Disney Twisted Tales a Whole New World Novel
A new series of YA Novels that re-imagine classic Disney stories in surprising new ways. Each book asks the question: What if one key moment from a familiar Disney film was changed? This dark and daring version of Aladdin twists the original story with the question: What if Jafar had been the first one to summon the Genie?

Disney A Twisted Tale: As Old As Time
Can the enchanted rose reveal hidden truths? Could it be that Belle's mother was the one who cursed the Beast all those years? When Belle touches the enchanted rose hidden away in the Beast's castle, memories flood through her mind - memories of a mother she thought she would never see again. And, stranger still, she sees that her mother is none other than the beautiful enchantress who cursed the castle and all its inhabitants. Shocked and confused, Belle and the Beast will unravel a dark mystery about their families that is 21 years in the making. Experience the third title, Disney As Old as Time: A Twisted Tale, in a thrilling series that puts a twist in much-loved tales, exploring what would happen if key turning points did not work out as planned.

Disney A Twisted Tale: Mirror, Mirror
What if the Evil Queen poisoned the prince? Following her beloved mother's death, the kingdom falls to Snow White's stepmother, known as the Evil Queen. At first, Snow keeps her head down, hoping to make the best of things. However, when new information about her parents comes to light, and a plot to kill her goes wrong, Snow embarks on a journey to stop the Evil Queen and take back her kingdom. Can Snow defeat an enemy who will stop at nothing to retain her power... including going after the ones Snow loves?

Disney A Twisted Tale: Part of Your World
It's been five years since the infamous sea witch defeated the little mermaid… taking King Triton's life in the process. Ariel is now the voiceless queen of Atlantica, while Ursula runs Prince Eric's kingdom on land. But when Ariel discovers that her father might still be alive, she finds herself returning to a world, and a prince, she never imagined she would see again. Will Ariel be able to overthrow the murderous villain set on destroying her home and the world she once longed to be a part of? Follow this tale of power, love and a mermaid's quest to reclaim her voice.
Payment & Security
Payment methods
Your payment information is processed securely. We do not store credit card details nor have access to your credit card information.
---
Security