Roll over image to zoom in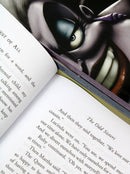 Titles in the Set

Fairest of All
Mother knows best
The Beast Within
Poor Unfortunate Soul

Snow White- Fairest of All
How did the wicked queen become so evil? When the King asks for her hand in marriage, the beautiful daughter of a cruel mirror-maker accepts, hoping her fortunes will change for the better... but will they? This is the untold tale of love, loss and dark magic behind the classic story of Snow White.

Tangled- Mother Knows Best
A tale as long and twisted as the braided hair at the centre of its legend. A girl with magical hair taken from her parents and confined to an isolated tower. Her captor, an old witch who acts as an overprotective mother who knows what's best. But what does Mother Gothel actually know? This account digs deep into the past to find out why she believes in her heart that mother truly knows best.

Beauty and the Beast- The Beast Within
The tale is as old as time, but what transformed the prince into the beast? The story of Beauty and the Beast has been told many different times, in many different ways. This is one version, pulled from many passed down through the ages. Its a story of vanity and arrogance, of love and hatred, and, of course, beastliness and beauty.

Little Mermaid- Poor Unfortunate Soul
How did the sea witch, Ursula, become so twisted and filled with anger and hatred? Determined to be with her new love, Ariel makes a dangerous deal with Ursula. Will the cost of losing her enchanting voice and nearly her soul prove too high for Ariel, or will the power of good prevail? Losing then finding ones voice is at the heart of the classic story of The Little Mermaid.
Payment & Security
Payment methods
Your payment information is processed securely. We do not store credit card details nor have access to your credit card information.
---
Security