Roll over image to zoom in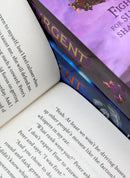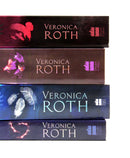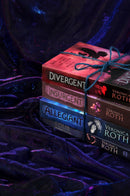 Titles in this set:
Allegiant
Divergent
Insurgent
Four
Description
Allegiant
The faction-based society that Tris Prior once believed in is shattered – fractured by violence and power struggles and scarred by loss and betrayal. So when offered a chance to explore the world past the limits she's known, Tris is ready. Perhaps beyond the fence, she and Tobias will find a simple new life together, free from complicated lies, tangled loyalties, and painful memories.
But Tris's new reality is even more alarming than the one she left behind. Old discoveries are quickly rendered meaningless. Explosive new truths change the hearts of those she loves. And once again, Tris must battle to comprehend the complexities of human nature – and of herself – while facing impossible choices about courage, allegiance, sacrifice and love.
Divergent
The No. 1 New York Times bestseller DIVERGENT – also a major motion picture.
For sixteen-year-old Tris, the world changes in a heartbeat when she is forced to make a terrible choice. Turning her back on her family, Tris ventures out, alone, determined to find out where she truly belongs.
Shocked by the brutality of her new life, Tris can trust no one. And yet she is drawn to a boy who seems to both threaten and protect her. The hardest choices may yet lie ahead….
The first book in the DIVERGENT series that has swept the globe – selling millions of copies world-wide.
Insurgent
Fighting for survival in a shattered world… the truth is her only hope. The thrillingly dark sequel to No. 1 New York Times bestseller, DIVERGENT. I have done bad things. I can't take them back, and they are part of who I am. Tris has survived a brutal attack on her former home and family. But she has paid a terrible price. Wracked by grief and guilt, she becomes ever more reckless as she struggles to accept her new future. Yet if Tris wants to uncover the truth about her world, she must be stronger than ever… because more shocking choices and sacrifices lie ahead.
Four
Readers first encountered Tobias Eaton as "Four" in Divergent. His voice is an integral part of Allegiant. Readers will find more of this charismatic character's backstory told from his own perspective in Four: A Divergent Collection. When read together, these long narrative pieces illuminate the defining moments in Tobias Eaton's life.
Payment & Security
Payment methods
Your payment information is processed securely. We do not store credit card details nor have access to your credit card information.
---
Security