Roll over image to zoom in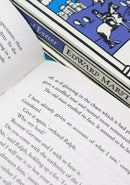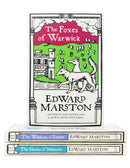 Titles In this Set:
The Foxes of Warwick
The Wildcats of Exeter
The Hawks of Delamere
The Foxes of Warwick
While hunting in the Forest of Arden, Henry Beaumont discovers the crushed body of a former member of his household. Flying into a rage, he soon arrests Boio, a local blacksmith, who was seen in the area, though the man disputes this. Ralph Delchard and Gervase Bret arrive in Warwick to find the place in a frenzy. Though there to resolve property disputes on behalf of William the Conqueror, the pair are soon involved with preventing a miscarriage of justice, as the evidence against the blacksmith is flimsy at best. But with Beaumont deaf to reason, the race is on to find the anonymous man the blacksmith claims can corroborate his story before he s sent to the gallows.
The Wildcats of Exeter
As Nicolas Picard rides home from Exeter he is attacked by a snarling wildcat. Yet, when his body is discovered, there are lacerations on his neck that could only have come from human hands. When royal commissioners of William the Conqueror, Ralph Delchard and Gervase Bret, arrive in the city to preside over local land disputes, their proceedings are immediately hampered by the death of a key participant: Picard. With Picard s wife and mistress, as well as the wife of the former owner of the estate, staking their claim to the land, Delchard and Bret wonder whose greed has driven them to kill. But the root of the mystery lies far deeper than mere avarice.
The Hawks of Delamere
Hugh Lupus, Earl of Chester, is enraged when his hawk is killed by an arrow in the Forest of Delamere. When two poachers are caught, he orders their execution yet neither of them fired the arrow. As Ralph Delchard and Gervase Bret come to Cheshire to settle a series of disputes between Church and State, they are guests of the Earl. But when they explore the castle and discover that the Prince of Gwynedd is being held there as a hostage, a number of questions arise. Who is trying to rescue him? Why is Idwal, the over-zealous Welsh priest, lurking in the city? And whose arrow is responsible for a gruesome human death in the forest?
Payment & Security
Payment methods
Your payment information is processed securely. We do not store credit card details nor have access to your credit card information.
---
Security