Roll over image to zoom in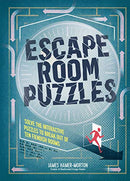 "Escape Room Puzzles: Solve the Puzzles to Break Out from Ten Fiendish Rooms" by James Hamer Morton is an engaging and interactive book that transports readers into the thrilling world of escape rooms from the comfort of their own homes. In this collection, the author presents ten fiendishly designed rooms, each with its own unique theme and set of challenging puzzles.

Readers are invited to play the role of an escape room participant, using their wits and problem-solving skills to tackle a variety of puzzles, riddles, and brain-teasers. As they progress through the book, they will encounter a wide range of challenges, from cryptic codes and intricate locks to logic puzzles and hidden clues. The ultimate goal is to decipher and solve each puzzle to advance to the next stage and ultimately "escape" from each room.
Morton's book offers an immersive experience, allowing readers to test their mental acumen and creative thinking as they tackle the puzzles. The challenges are designed to be both fun and mentally stimulating, making it an excellent choice for puzzle enthusiasts, fans of escape rooms, or anyone looking for an entertaining and challenging solo or group activity.
"Escape Room Puzzles" not only provides a rewarding and intellectually satisfying experience but also offers valuable insights into the mind of an escape room designer, making it an ideal choice for those curious about the intricacies of this popular form of entertainment. With its well-crafted puzzles and immersive scenarios, this book is sure to provide hours of engaging entertainment for puzzle lovers and mystery enthusiasts alike.
Payment & Security
Payment methods
Your payment information is processed securely. We do not store credit card details nor have access to your credit card information.
---
Security