Roll over image to zoom in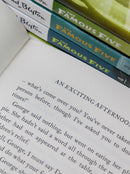 Titles In This Set:
Five on Treasure Island
Five Go Adventuring Again
Five Run Away Together
Five Go to Smuggler's Top
Five Go Off in A Caravan

Five on Treasure Island
The very first Famous  Five adventure, featuring Julian, Dick,  Anne, not forgetting tomboy George and her  beloved dog, Timmy!
There's a shipwreck off Kirrin Island! But  where is the treasure? The Famous Five are  on the trail - looking for clues - but  they're not alone! Someone else has got the  same idea. Time is running out for the  Famous Five, who will follow the clues and  get to the treasure first?
Five Go Adventuring Again
There's a thief at Kirrin  Cottage! The Famous Five think they know who  it is, but they need to prove it! Where can  they find evidence? The discovery of an old  map and very unusual hiding place is all  they need to get to the bottom of this  mystery and uncover the true culprit!
Five Run Away Together
Who's been on George's  island? And what is locked in the mysterious  trunk hidden on Kirrin Island? The Famous  Five think they're on the trail of smugglers  - until they hear a child scream ...
Five Go to Smuggler's Top
Are there still smugglers  at Smuggler's Top? The Famous Five go to  stay at the large old house and discover  secret hiding places and underground  tunnels! Then they catch people signalling  out to sea - who can these smugglers be?
Can Julian, Anne, Dick, George and Timmy the  dog discover the answer?
Five Go Off in A Caravan
A caravan holiday for the  Famous Five is bound to be an adventure! And  when they stumble across a circus troupe,  the gang are thrilled. But some of the  circus people have more sinister plans than  just clowning around....
Payment & Security
Payment methods
Your payment information is processed securely. We do not store credit card details nor have access to your credit card information.
---
Security