Roll over image to zoom in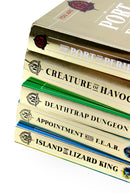 Titles In This Set:
The Port of Peril
Creature of Havoc
Deathtrap Dungeon
Appointment With F.E.A.R.
Island of the Lizard King

The Port of Peril
In this addition to the multi-million-copy-selling Fighting Fantasy series, YOU – the hero – must travel all over Allansia – from old haunts Darkwood Forest to Port Blacksand – on a dangerous quest.

What starts as a treasure hunt soon takes a darker turn, with the potential return of the most terrifying foe of the original books, Zanbar Bone, on the increasingly dark horizon…

Creature of Havoc
YOU, the hero, must track down three Vapours in order to defeat the feared necromancer Zharradan Marr. Access the Galleykeep, Marr's flying vessel, to destroy his portal and his means of entering Allansia - or perish in the attempt!
Deathtrap Dungeon
Are YOU brave enough to enter evil Baron Sukhumvit's devilish dungeon and take part in his Trial of Champions?

It's a trap-filled and monster-infested labyrinth where you'll compete against five other adventurers to collect certain gems, which are the key to escaping and winning the Trial.

Appointment With F.E.A.R.
YOU, the hero, are the Silver Crusader, a superhero who protects Titan City.

You must battle criminals the Scarlet Prankster, Dr. Macabre, the Serpent and the Alchemists and infiltrate a meeting between leaders of evil organization F.E.A.R. to capture master villain the Titanium Cyborg.

Island of the Lizard King
YOU, the hero, are tasked with confronting the terrifying Lizard King and freeing the human slaves captured by his bloodthirsty army. You must discover the chink in his armour if you have any hope of defeating him...
Payment & Security
Payment methods
Your payment information is processed securely. We do not store credit card details nor have access to your credit card information.
---
Security