Roll over image to zoom in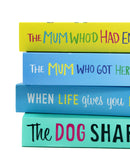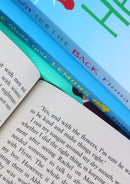 Titles In This Set:

The Dog Share
When Life Gives You Lemons
The Mum Who'd Had Enough
The Mum Who Got Her Life Back


The Dog Share:
Suzy Medley is having a bad day…when a shabby terrier turns up at her door. Just like Suzy, Scout has been abandoned, although only Suzy has been left with a financial mess and a business in tatters thanks to her ex. Suzy takes Scout in and her chaotic world changes in unexpected ways: strangers have never been more welcoming and her teenage kids can't wait to come home to visit.
When Life Gives You Lemons:
Between tending to the whims of her seven-year-old and the demands of her boss, Viv barely gets a moment to herself. It's not quite the life she wanted, but she hasn't run screaming for the hills yet. But then Viv's husband Andy makes his mid-life crisis her problem.
The Mum Who'd Had Enough:
After sixteen years of marriage, Nate and Sinead Turner have a nice life. They like their jobs, they like their house and they love their son Flynn. Yes, it's a very nice life. Or, at least Nate thinks so. Until, one morning, he wakes to find Sinead gone and a note lying on the kitchen table listing all the things he does wrong or doesn't do at all.
The Mum Who Got Her Life Back:
When her 18-year-old twins leave for university, single mum Nadia's life changes in ways she never expected: her Glasgow flat feels suddenly huge, laundry doesn't take up half her week, and she no longer has to buy 'the Big Milk'. After almost two decades of putting everyone else first, Nadia is finally taking care of herself.
Payment & Security
Payment methods
Your payment information is processed securely. We do not store credit card details nor have access to your credit card information.
---
Security