Roll over image to zoom in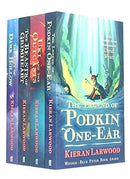 Titles in This Set
The Legend of Podkin One-Ear
The Gift of Dark Hollow
The Beasts of Grimheart
Uki and the Outcasts 
The Legend of Podkin One-Ear
Podkin is the son of a warrior chieftain. He knows that one day it will be up to him to lead his warren and guard it in times of danger. But for now, he's quite happy to laze around annoying his older sister Paz, and playing with his baby brother Pook. Then Podkin's home is brutally attacked, and the young rabbits are forced to flee. The terrifying Gorm are on the rampage, and no one and nowhere is safe.

The Gift of Dark Hollow
The bard must leave Thornbury. It is not safe for him to stay. Rue, his new apprentice, travels with him - keen to learn his trade - and hear the next installment in the legend of Podkin One-Ear . . .Podkin and his fellow rabbits have been sheltering in Dark Hollow after their battle with Scramashank. Paz tends to the rabbits with sleeping sickness; Crom meets with the war council . . . Podkin has nothing to do!

The Beasts of Grimheart
And so it is that the bard and and his young apprentice Rue are taken to Spinestone, the temple warren of the bonedancers. It is here that the bard is ordered to retell the tale that has got him in so much trouble . . . and so to the next instalment in the astonishing tale of Podkin One-Ear . . .Podkin, Paz and Pook once again find their home under threat, but this time they are ready to fight!
Uki and the Outcasts 
From the Ice Wastes beyond the Cinder Wall emerges an unlikely hero. Rejected by his village and left to die, young Uki is given life and unique powers by a long-buried spirit from the time of the Ancients . . . and a life or death mission.
Joined by two other outcasts - a trained assassin who refuses to kill people and a very short rabbit who rides the fastest jerboa on the plains - Uki must capture Valkus, the Spirit of War, before rabbitkind destroys itself in conflict.
Payment & Security
Payment methods
Your payment information is processed securely. We do not store credit card details nor have access to your credit card information.
---
Security