Roll over image to zoom in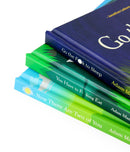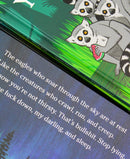 Titles In This Set:

Go the F**k to Sleep

You Have to Fucking Eat

Fuck, Now There Are Two of You


Go the F**k to Sleep:

Go the F**k to Sleep is a bedtime book for parents who live in the real world, where a few snoozing kitties and cutesy rhymes don't always send a toddler sailing blissfully off to dreamland. Profane, affectionate, and radically honest, California Book Award-winning author Adam Mansbach's verses perfectly capture the familiar--and unspoken--tribulations of putting your little angel down for the night. In the process, they open up a conversation about parenting, granting us permission to admit our frustrations, and laugh at their absurdity.


You Have to F*cking Eat:

From the author of the international best seller Go the F*** to Sleep comes a long-awaited sequel about the other great parental frustration: getting your little angel to eat something that even vaguely resembles a normal meal. Profane, loving, and deeply cathartic, You Have to F***ing Eat breaks the code of child-rearing silence, giving moms and dads new, old, grand- and expectant, a much-needed chance to laugh about a universal problem.


F*ck, Now There Are Two of You:

Adam Mansbach famously gave voice to two of parenting's primal struggles in Go the Fuck to Sleep and You Have to Fucking Eat. Now Fuck, Now There Are Two of You tackles a new addition to the family and all the fears and frustrations attendant to the simple, math-defying fact that two is a million more kids than one.
Payment & Security
Payment methods
Your payment information is processed securely. We do not store credit card details nor have access to your credit card information.
---
Security