Roll over image to zoom in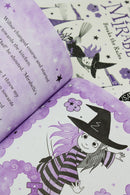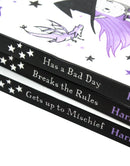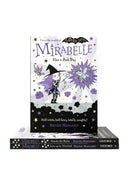 Titles in this Set:
Mirabelle Breaks the Rules
Mirabelle Has a Bad Day
Mirabelle Gets up to Mischief
Mirabelle Breaks the Rules:
Mirabelle's mum is a witch, her dad is a fairy, and she is a bit of both. When Mirabelle goes off to witch school she promises not to cause any mischief . . .But then potions class goes a bit wrong and flying practise is a disaster. Soon enough, Mirabelle finds herself getting up to some seriously mischievous behaviour. Hopefully, with the help of her best friend, Carlotta, she can put everything right before home time.

Mirabelle Has a Bad Day:
Mirabelle's mum is a witch, her dad is a fairy, and she is a bit of both! Mirabelle is having a BAD DAY! Her best friend, Carlotta, can usually make Mirabelle see the funny side but she's away from school and Mirabelle can't help feeling a BAD MOOD coming on. When Mirabelle gets home to find her brother has eaten the last chocolate biscuit and is playing with her beloved pet dragon, Mirabelle finally loses her temper, with dramatic consequences for all the family!

Mirabelle Gets up to Mischief:
Beautifully illustrated in two colour, this new series of chapter books introduces Isadora Moon's cousin! Meet Mirabelle, half witch, half fairy and totally naughty⦠There will be spells, there will be flying but mostly there will be mischief!
Payment & Security
Payment methods
Your payment information is processed securely. We do not store credit card details nor have access to your credit card information.
---
Security