Roll over image to zoom in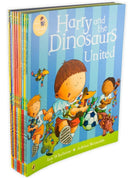 Titles in this Set
Harry and the Bucketful of Dinosaurs
Harry and the Dinosaurs Unite
harry and the Dinosaurs First Sleepover
Harry and the Dinosaurs go on Holidays
Harry and the Dinosaurs at the Museum
Harry and the Dinosaurs Go Wild
Harry and the Dinosaurs say "Raahh"
Harry and the Dinosaurs have a Happy Birthday
Harry and the Robots
Harry and the Dinosaurs go to School

Description

Harry and The Bucketful Of Dinosaurs
When Harry helps Nan to clear out the attic he makes a wonderful discovery - DINOSAURS! He carefully washes and mends them, and from then on where Harry goes his dinosaurs go too, in a bucket! But one day his beloved dinosaurs get lost... will Harry ever find them?

Harry and The Dinosaurs Go Wild
When Harry goes to a safari park and discovers some animals are in danger of becoming extinct, he wants to save them! Harry soon finds out that, however small you are, you can still make a big difference.

Harry and The Robots
Harry's toy robot has stopped marching! So it has gone off to robot hospital to be fixed. Harry and Nan decide to make another robot to keep Harry company. But Nan is suddenly taken ill and has to go to hospital herself. Harry knows just what to do to help Nan get better - but will he manage to get his robot finished in time?

Harry and The Dinosaurs Go On Holiday
Harry and his dinosaurs can't wait to go on holiday, but Tyrannosaurus doesn't like flying and Harry's a bit worried too. After all, Australia is a long, long way from home.
Luckily Nan's packed a special surprise that helps make Harry's holiday the adventure of a lifetime!

Harry and The Dinosaurs At The Museum
Harry and the dinosaurs are having a very exciting time exploring the big museum. But it's not long before Harry takes a wrong turn and gets lost! Will Mum and Nan know where to look for him?

Harry and The Dinosaurs United
Harry has been made captain of his class football team. With the school football competition just round the corner, can Harry and his friends - raaahed on by their loyal mascotauruses - play like a real team and with their big match?

Harry and The Dinosaurs Have A Happy Birthday
Do you love birthdays? Harry and his dinosaurs do and today the dinosaurs are 100 million years old! Join Harry and his dinosaurs for the happiest, RAAAH-riest birthday party ever.

Harry and The Dinosaurs Go To School
It's Harry's first day at school. He and the dinosaurs are very excited - and perhaps a little bit nervous. But when Harry's dinosaur friends don't join him in the classroom, Harry's not so sure he's going to like school. There's another new boy who's really unhappy too - can the dinosaurs come to the rescue and make school fun for all of them.

Harry and The Dinosaurs First Sleepover
When Harry and his dinosaurs go on their first sleepover, they have so much fun there's no time to miss home. But when it gets dark and things go bump in the night, suddenly the dinosaurs are not so sure.

Harry and The Dinosaurs Say "Raahh"
Harry's dinosaurs are acting strangely. They're hiding all over the house and refusing to come out! Could this be because today Harry has to visit Mr Drake, the dentist? At last the dinosaurs are all persuaded to jump into their bucket, but will they behave once they get there...

Payment & Security
Payment methods
Your payment information is processed securely. We do not store credit card details nor have access to your credit card information.
---
Security