Roll over image to zoom in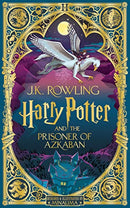 Immerse yourself once again in the enchanting world of Harry Potter with the captivating MinaLima Edition of "Harry Potter and the Prisoner of Azkaban." This stunning edition, crafted by the creative genius of graphic design duo MinaLima (Miraphora Mina and Eduardo Lima), takes readers on a visually spellbinding journey through the magical realms of Hogwarts School of Witchcraft and Wizardry.
MinaLima's distinctive artistic touch brings J.K. Rowling's beloved third installment to life in a way that's both whimsical and sophisticated. Each page is a work of art, with intricate illustrations, spellbinding typography, and interactive elements that invite readers to explore the magic within. The vibrant colors, meticulous details, and innovative design choices elevate the reading experience to new heights, making this edition a true collector's item for Harry Potter enthusiasts.
As Harry, Ron, and Hermione navigate the mysteries surrounding the Prisoner of Azkaban, MinaLima's creative mastery adds an extra layer of enchantment to the narrative. From the Marauder's Map that unfolds to reveal hidden secrets, to the bewitching cover that beckons readers into the heart of the wizarding world, this edition is a testament to the collaborative magic between author and artists.
Discover the wizarding wonders of the MinaLima Edition, where every chapter unfolds like a magical tapestry. Whether you're a longtime fan of the series or a newcomer to the wizarding universe, this edition promises an immersive and visually stunning adventure that will captivate readers of all ages. "Harry Potter and the Prisoner of Azkaban: MinaLima Edition" is more than a book; it's a masterpiece that invites readers to experience the magic of Hogwarts in a whole new way.
Payment & Security
Payment methods
Your payment information is processed securely. We do not store credit card details nor have access to your credit card information.
---
Security