Roll over image to zoom in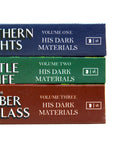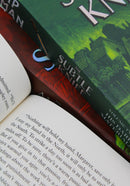 Titles in this set:

The Amber Spyglass
The Subtle Knife
Northern Lights

The Amber Spyglass
Will and Lyra, whose fates are bound together by powers beyond their own worlds, have been violently separated. But they must find each other, for ahead of them lies the greatest war that has ever been - and a journey to a dark place from which no one has ever returned.Philip Pullman brings The Amber Spyglass to the spellbinding His Dark Materials sequence, which dazzles everyone who reads it, children and adults alike. After the original Northern Lights, he kept up the quality in The Subtle Knife, the second title in the trilogy. Now he brings the series to an extraordinary conclusion. Will and Lyra, the two children at the heart of the books, have become separated amidst great dangers. Can they find each other, and their friends? Then complete their mysterious quest before it's too late? The great rebellion against the dark powers that hold Lyra's world, and many others, in thrall is nearing its climax.
The Subtle Knife
Will has just killed a man. He's on the run. His escape will take him far beyond his own world, to the eerie disquiet of a deserted city, and to a girl, Lyra. Her fate is strangely linked to his own, and together they must find the most powerful weapon in all the worlds...At the end of The Northern Lights, Lyra Silvertongue watched in fear and fascination as her father, Lord Asriel, created a bridge between worlds. Lyra and her daemon, Pantalaimon, are now lost in an alternate universe where they meet Will Parry, a fugitive from a third universe. Will has found a small window between Cittagazze (a place where children roam unchecked but invisible Specters suck the spirit out of adults) and his Oxford, which, with its Burger Kings and cars, is frighteningly different from the Oxford Lyra knows.
Northern Lights
Lyra Belacqua and her animal daemon live half-wild and carefree among scholars of Jordan College, Oxford. The destiny that awaits her will take her to the frozen lands of the Arctic, where witch-clans reign and ice-bears fight. Her extraordinary journey will have immeasurable consequences far beyond her own world... Lyra's life is already sufficiently interesting for a novel before she eavesdrops on a presentation by her uncle Lord Asriel to his colleagues in the Jordan College faculty, Oxford. The college, famed for its leadership in experimental theology, is funding Lord Asriel's research into the heretical possibility of the existence of worlds unlike Lyra's own, where everyone is born with a familiar animal companion, magic of a kind works, the Tartars are threatening to overrun Muscovy, and the Pope is a puritanical Protestant. Set in an England familiar and strange, Philip Pullman's lively, taut story is a must-read and re-read for fantasy lovers of all age.
Payment & Security
Payment methods
Your payment information is processed securely. We do not store credit card details nor have access to your credit card information.
---
Security