Roll over image to zoom in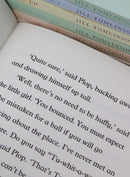 Titles in the Set
The Penguin Who Wanted to Find Out
The Hen Who Wouldn't Give Up
The Otter Who Wanted to Know
The Gorilla Who Wanted to Grow Up
The Cat Who Wanted to Go Home
The Owl Who Was Afraid of the Dark
The Aardvark Who Wasn't Sure

The Cat Who Wanted To Go Home
Suzy is a little French cat with a beautiful stripy coat and long white whiskers. Suzy likes living in France, chasing butterflies and being stroked the wrong way. Suzy doesn't like: straying far from home. One day she finds a cosy little basket, clambers in and falls asleep. When she wakes she discovers she is actually in the basket of a hot air balloon, which has taken her all the way to England. How is she ever going to find her way back home...

The Hen Who Wouldn't Give Up
Hilda is a small, speckled hen. She is brave and very determined. And when Hilda makes up her mind, nothing and no one can stop her!

The Otter Who Wanted To Know
Pat is an adorable little sea otter. She likes turning up her toes and floating in the sea, chasing fish and asking a hundred and one questions. One day Pat's quiet life is turned upside down when she gets caught up in a pretty scary adventure. Suddenly she doesn't have time to ask any questions, and even if she did, no one would know the answers. This time Pat just has to find things out for herself!

The Owl Who Was Afraid Of The Dark
Plop is a beautiful baby barn owl perfect in almost every way, except just one thing...Plop is afraid of the dark!

The Penguin Who Wanted To Find Out

Otto was a penguin hick. He likes to play in the snow, but first he'll teach the other chicks all they need to know.

The Gorilla Who Wanted to Grow
Pongo is a young and mischievous gorilla living in the mountains of Africa. He wants to grow up to be brave and clever like his dad, and perhaps even become leader of the pack one day. But it is not until his little sister, Whoopsie, is born that Pongo discovers that growing up isn't just about having a big chest to thump! Can he prove that he isn't as young and irresponsible as everyone thinks

The Aardvark Who Wasn't Sure
A heart-warming classic full of animal antics by Jill Tomlinson. Otto is a penguin chick, that much he knows, but other than this he has a lot to learn. Life at the bottom of the world is a curious thing and life can change at a moments notice. The next blizzard, the next meal and the threat of being orphaned are all challenges that must be faced. But how will Otto and his friends manage? The only way that penguins can do by looking after each other. A perfect story for animal lovers young and old, filled with tenderness and love combined with a subtle humour. Jill Tomlinsons animal stories have been enjoyed by children who want to snuggle down with a good read for decades. This edition of The Penguin Who Wanted to Find Out is beautifully illustrated by Paul Howard.
Payment & Security
Payment methods
Your payment information is processed securely. We do not store credit card details nor have access to your credit card information.
---
Security