Roll over image to zoom in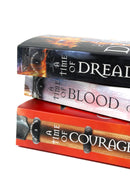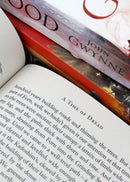 Titles In This Set:

A Time of Dread
A Time of Blood
A Time of Courage

A Time of Dread:
The Ben-Elim, a race of warrior angels, once vanquished a mighty demon horde. Now they rule the Banished lands. But their dominion is brutally enforced and their ancient enemy may not be as crushed as they thought. In the snowbound north, Drem, a trapper, finds mutilated corpses in the forests – a sign of demonic black magic. In the south, Riv, a young, tempestuous soldier, discovers a deadly rift within the Ben-Elim themselves.
A Time of Blood:
At the battle of Starstone Lake, Drem and his friends witnessed horrors they'll never forget. They saw magic warping men into beasts and a demon rise from the dead, creating something new and terrifying. So they flee to warn the Order of the Bright Star. But the demons' high priestess, Fritha, is determined to hunt them down.
A Time of Courage:
The King of the Otherworld is finally free. Armed with fearsome new starstone weapons, Asroth prepares to lead his demonic war-host south. And with the help of his bride, Fritha, he plans to crush the warrior-angels and their allies for good. In the shadows of Forn Forest, Riv and the surviving Ben-Elim hold a war council ­­– desperate to unite those who would stand against Asroth and his army.
Payment & Security
Payment methods
Your payment information is processed securely. We do not store credit card details nor have access to your credit card information.
---
Security