Roll over image to zoom in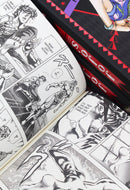 Titles in this set:
Battle Tendency Volume 1
The beginning of the Battle Tendency Arc! The Joestar family is called upon to do battle against evil again! This time, it's Joseph Joestar, the grandson of Jonathan Joestar! And his enemies are more powerful and diabolical than ever! Behold! The terror of the Pillar Men!
Battle Tendency Volume 2
The battle against evil takes a diabolical twist as more Pillar Men awaken! Now it is up to Joseph Joestar and his new ally Caesar Zeppeli to try and stop their nefarious plan! But these are creatures of unimaginable power, and JoJo and Caesar will have to get a lot stronger to even stand a chance!
Battle Tendency, Vol. 3
JoJo and Caesar face their most powerful foe yet—the leader of the Pillar Men! Armed with the ability to create a weapon from any part of his body, he is more than a match for JoJo and his allies. And now that his brethren have fallen, he's got a score to settle. Prepare for a battle unlike any before!
Battle Tendency, Vol. 4
The conclusion of the fight against the Pillar Men! It has been a long and perilous journey for JoJo and his allies. Many battles have been fought and many lives lost. Now the final showdown with Wamuu is at hand, and armed with the red-hot desire to avenge his fallen comrade, JoJo faces an evil being so powerful it staggers the mind. Find out who prevails in this explosive finale!
Payment & Security
Payment methods
Your payment information is processed securely. We do not store credit card details nor have access to your credit card information.
---
Security