Roll over image to zoom in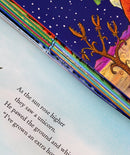 Titles In this Set:
Tiddler
Stick Man
Tabby McTat
ZOG
The Highway Rat
Superworm
The Scarecrows' Wedding
Zog and the Flying Doctors
The Ugly Five
The Smeds and Smoos
Tiddler
Tiddler is a little fish who tells the tallest tales in the ocean. But did he really ride a seahorse? Did he really meet a mermaid?

Stick Man
But it's dangerous being a Stick Man. A dog wants to play with him, a swan builds her nest with him. He even ends up on a fire!

Tabby McTat
Tabby McTat is purr-fectly happy, singing along all day with Fred the busker. But when Fred gives chase to a thief, the two are separated. Will they ever find each other again?

ZOG
Zog is the keenest dragon in school. He's also the most accident-prone, flying into trees and even setting his own wing on fire.

The Highway Rat
'Give me your buns and your biscuits! Give me your chocolate éclairs! For I am the Rat of the highway, and the Rat Thief never shares!'

Superworm
Meet the wriggliest, squiggliest superhero in the world! Superworm is super-long. Superworm is super-strong. Watch him wiggle! See him Squirm! Hip, hip, hooray for SUPERWARM!

The Scarecrows' Wedding
Betty O'Barley and Harry O'Hay know just what they need for the perfect wedding day: a goose-feather dress; two wedding rings and lots of pink flowers!

Zog and the Flying Doctors
There's much to do, as they fly around tending a sunburnt mermaid, a distressed unicorn and a sneezy lion. But should princesses really be doctors?

The Ugly Five
Who's that singing on the savannah? It's the top-five ugly animals in Africa! The wildebeest, warthog, vulture, hyena and marabou stork swagger proudly across the savannah, rejoicing in their ugliness.

The Smeds and Smoos
The Smeds (who are red) never mix with the Smoos (who are blue). So when a young Smed and Smoo fall in love, their families strongly disapprove.
Payment & Security
Payment methods
Your payment information is processed securely. We do not store credit card details nor have access to your credit card information.
---
Security