Roll over image to zoom in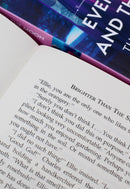 Titles In this Set:
Everything and the Moon
Brighter then the Sun 
Everything and the Moon
When Robert Kemble stumbles across Victoria Lyndon in a hedgerow maze, he can't believe his eyes. The girl who'd torn him in two, who let him plan an elopement and then left him standing by the side of the road, was suddenly within arm's reach, and even though his fury still knew no bounds, she was impossible to resist.

Victoria's father had told her an earl would never marry a vicar's daughter, and he was right. Robert had promised her marriage, then danced off to London while she suffered the shame of a foiled elopement. But even though Victoria doesn't particularly enjoy her new life as a governess, when Robert offers her a job of a different sort - his mistress - she refuses, unable to sacrifice her honour, even for him.
Brighter then the Sun
When Charles Wycombe, the dashing and incorrigible Earl of Billington, toppled out of a tree and landed at Ellie's feet, neither suspected that such an inauspicious meeting would lead to marriage. 

But Charles must find a bride before his thirtieth birthday or he'll lose his fortune. And Ellie needs a husband or her father's odious fiancée will choose one for her. And so they agree to wed, even though their match appears to have been made somewhere hotter than heaven ...


Payment & Security
Payment methods
Your payment information is processed securely. We do not store credit card details nor have access to your credit card information.
---
Security