Roll over image to zoom in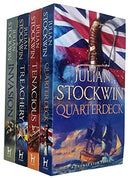 Titles In this Set:
Quarterdeck:
Tenacious:
Treachery:
Invasion:
Quarterdeck:
Thomas Kydd was promoted to acting lieutenant at the bloody Battle of Camperdown in October 1797. Now, he must sit an examination to confirm his rank - or face an inglorious return before the mast. But this is only the first of many obstacles for a man who was pressed into the King's Service and discovered a calling for the sea. Kydd is from humble origins, yet he attains the lofty heights of the quarterdeck as an officer in His Majesty's Navy.

Tenacious:
Thomas Paine Kydd is in Halifax enjoying the recognition and favour of his fellow officers when Tenacious is summoned to join Horatio Nelson's taskforce on an urgent reconnaissance mission. Intelligence suggests the French Revolution is about to set the Mediterranean ablaze, but Bonaparte's fleet is nowhere to be found.

Treachery:
Thomas Kydd has dragged himself up in the navy from press-ganged seaman to captain of his own ship. Now he faces disgrace. After losing favour with his superiors, and suffering terrible personal tragedy, Kydd and his ship are sent to guard the Channel Islands from Napoleon's forces. When he is brutally betrayed off the Normandy Coast and removed from command, only.

Invasion:
Napoleon's forces are poised to invade Britain, and Commander Thomas Kydd's ship is at the forefront of the fleet defending the English coast. His honour restored after temporary disgrace in the Channel Islands, and reunited with his ship Teazer, Kydd seizes the chance to fight for his country. Then Kydd is abruptly withdrawn from the fleet and sent back to Dover on a secret mission to guard a mysterious American inventor.
Payment & Security
Payment methods
Your payment information is processed securely. We do not store credit card details nor have access to your credit card information.
---
Security