Roll over image to zoom in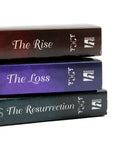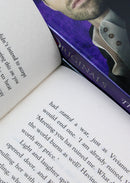 Titles in This Set
The Originals: 01: The Rise
The Originals: 02: The Loss
The Originals: 03: The Resurrection


The Originals: 01: The Rise
It's the year 1722. Ever since the siblings Klaus, Elijah, and Rebekah Mikaelson landed on the shores of New Orleans, they have been fighting to claim the city as their own. They are the oldest vampires in the world, trying to share the city with the witches and the werewolves.Enter Vivianne. Raised as a witch, she is betrothed to a werewolf for a union that should bring peace between the witches and the werewolves. She is the only girl in New Orleans off limits to the Mikaelsons. Klaus immediately plans to make Vivianne his own.Can the vampires cling on to their territories in the city? Or will Vivienne and Klaus trigger a battle bigger than anything New Orleans has ever known?

The Originals: 02: The Loss
It's 1766. The oldest vampires in the world, siblings Klaus, Elijah and Rebekah Mikaelson, have rebuilt New Orleans to great glory. The witches live on the fringes in the bayou and the werewolves have fled. But still, Klaus isn't satisfied. No kingdom is complete without a queen to sit beside the king. Klaus has spent years trying to find a witch who will resurrect his love, Vivianne. When he finally finds a witch powerful enough and willing to perform the spell, happiness suddenly seems within reach.But things aren't as simple as they seem, and the witch has an agenda of her own ...

The Originals: 03: The Resurrection
As the oldest vampires in the world, Klaus, Elijah and Rebekah Mikaelson are less than thrilled that they must share New Orleans with the werewolves.Klaus decides to build an army to take them out once and for all. He's turning vampires left and right, with Rebekah by his side. The new vampires are killing any werewolf they can get their hands on, but as Klaus's army becomes more powerful, he becomes increasingly blind to the dangers that threaten Elijah and Rebekah.An epic choice faces the Mikaelsons, as one of them could be taken from the earth forever ...
Payment & Security
Payment methods
Your payment information is processed securely. We do not store credit card details nor have access to your credit card information.
---
Security