Roll over image to zoom in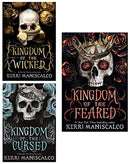 Titles in this Set:
Kingdom of the Wicked
Kingdom of the Cursed
Kingdom of the Feared
Kingdom of the Wicked
Emilia and her twin sister Vittoria are streghe - witches who live secretly among humans, avoiding notice and persecution. One night, Vittoria misses dinner service at the family's renowned Sicilian restaurant. Emilia soon finds the body of her beloved twin . . . desecrated beyond belief. Devastated, Emilia sets out to find her sister's killer and to seek vengeance at any cost-even if it means using dark magic that's been long forbidden.

Kingdom of the Cursed
With the enigmatic Prince of Wrath at her side, Emilia sold her soul to become Queen of the Wicked and travelled to the Seven Circles to fulfil her vow of avenging her beloved sister. But the first rule in the court of the Wicked? Trust no one. And it quickly becomes clear that nothing in Hell is what it seems. Even Wrath, her onetime ally, may be keeping secrets about his true nature. But that suits Emilia just fine - she's got secrets of her own.

Kingdom of the Feared 
Emilia is reeling from a shocking discovery about her sister, Vittoria. But before she faces the demons of her past, Emilia yearns to claim her king, the seductive Prince of Wrath, in the flesh. She doesn't just desire his body; she wants his heart and soul-but that's something the enigmatic demon can't promise her.

When a high-ranking member of House Greed is assassinated, damning evidence somehow points to Vittoria as the murderer. Now, Emilia will do anything to get to the bottom of these accusations against the sister she thought she knew.
Payment & Security
Payment methods
Your payment information is processed securely. We do not store credit card details nor have access to your credit card information.
---
Security