Roll over image to zoom in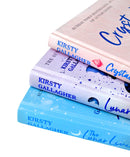 Titles in this Set:
Crystals for Self-Care:
Lunar Living:
The Lunar Living Journal:
Crystals for Self-Care:
In Part 1, Kirsty explores what crystals are, how they work, before going on to explain how you choose, care for and programme them, and how to go about using them. Then, in Part 2, Crystals for Self-Care delves deeper into the many areas in which crystals work their magic. Chapters include Crystals for Love and Relationships, Crystals for Stress and Anxiety and Crystals for Work and Business.

Lunar Living:
Lunar Living could be just the answer that you are looking for. Working with the constantly changing phases of the moon helps you to understand yourself like never before, to realign everything in your own life, to understand when you need to rest and self-care and when you need to shine and make things happen. Living back in tune with this natural flow and taking care of you and your needs, even if that's just twice a month will make the biggest difference to how you feel, act and react the rest of the month.

The Lunar Living Journal:
Bestselling author and moon mentor Kirsty Gallagher is here to guide you through the moon cycles. Her charming journal will inspire you to slow down and check in with yourself. Journaling in alignment with the moon will help you to rediscover your inner world, using your emotions as signposts for what in your life needs your attention or has to change. Writing down your thoughts, goals, intentions and worries is a powerful and therapeutic practice which will bring you comfort and clarity whatever you may be going through."
Payment & Security
Payment methods
Your payment information is processed securely. We do not store credit card details nor have access to your credit card information.
---
Security