Roll over image to zoom in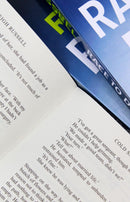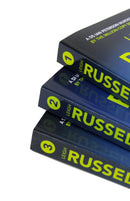 Titles In this Set:
Cold Sacrifice
Race to Death 
Blood Axe
Cold Sacrifice
When Henry's wife is stabbed to death, he pays a prostitute to give him an alibi. Her body is discovered, strangled, and the police realise they are dealing with a serial killer who will stop at nothing to cover his tracks. While they are hunting for evidence, another prostitute is brutally murdered. On the track of a vicious killer, Ian doesn't realise he is risking the life of his young colleague, Polly. Already established as a popular character in his own right, Ian Peterson appears in a supporting role in the first three Geraldine Steel novels. Cold Sacrifice is the start of his own career as protagonist in a brand new detective series.
Race to Death 
Moments before, he had been enjoying a day out at the races. Now he could be dying…. As he fell a loud wind roared past his ears, indistinguishable from the roar of the crowd. The race was over'. A man plummets to his death during the York Races. Suicide or murder? Newly-promoted DI Ian Peterson is plunged into a complex and high-profile case, and as the body count increases, the pressure mounts for his team to solve the crimes quickly. But the killer is following the investigation far more keenly than Ian realises and time is running out as the case suddenly gets a lot closer to home...
Blood Axe
Silently dipping his oars in the water he made his escape. It was a weary journey, with few spoils to show for it. Next time he would do better. He looked back over his shoulder. The bridge had disappeared, swallowed up by the darkness. From its walkway he too had become invisible. Only the bloody body of a woman showed he had been roaming the streets that night. D.I. Ian Peterson investigates a series of gruesome and brutal axe murders in York. As the body count mounts, the case demands all Ian's ingenuity, because this is a killer who leaves no clues.
Payment & Security
Payment methods
Your payment information is processed securely. We do not store credit card details nor have access to your credit card information.
---
Security