Roll over image to zoom in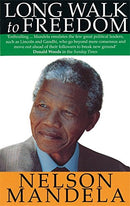 "Long Walk to Freedom: The Autobiography of Nelson Mandela" is a compelling narrative that traces the extraordinary life of one of the most iconic figures of the 20th century. Nelson Mandela, a key figure in the struggle against apartheid in South Africa, shares his personal journey from a young boy in a rural village to becoming the first black president of a post-apartheid South Africa.
The autobiography begins with Mandela's childhood, providing insight into the cultural and social landscape of his early years. It then delves into his political awakening and his involvement in the anti-apartheid movement. Mandela describes the challenges faced by black South Africans under the oppressive apartheid regime, and the formation of the African National Congress (ANC) as a response to institutionalized racism.
The heart of the book covers Mandela's long and arduous imprisonment on Robben Island. Despite enduring physical and psychological hardships, Mandela's resilience and commitment to justice remained unwavering. The narrative also highlights the global movement advocating for Mandela's release, turning him into an international symbol of resistance.
As the political landscape evolves, Mandela takes readers through the negotiations that led to the end of apartheid and the establishment of democratic elections in South Africa. The autobiography is a testament to Mandela's belief in reconciliation and forgiveness, as he emphasizes the importance of building a united, non-racial South Africa.
"Long Walk to Freedom" is not just a personal memoir but also a chronicle of the broader struggle for human rights and social justice. Mandela's eloquent prose captures the spirit of the anti-apartheid movement and reflects on the significance of his long journey towards freedom.
Ultimately, the autobiography paints a vivid picture of Nelson Mandela's legacy as a leader, a statesman, and a symbol of hope for those fighting against oppression. It stands as a powerful testament to the triumph of justice, forgiveness, and the enduring human spirit.
Payment & Security
Payment methods
Your payment information is processed securely. We do not store credit card details nor have access to your credit card information.
---
Security