Roll over image to zoom in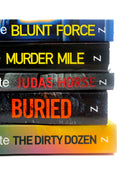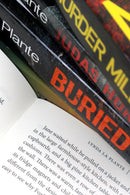 Titles In this Set:
Buried 
Judas Horse 
Murder Mile 
Blunt Force 
The Dirty Dozen 
Buried:
DC Jack Warr and his girlfriend Maggie have just moved to London to start a new life together. Though charming, Jack can't seem to find his place in the world - until he's drawn into an investigation that turns his life upside down.

In the aftermath of a fire at an isolated cottage, a badly charred body is discovered, along with the burnt remains of millions of stolen, untraceable bank notes.

Jack's search leads him deep into a murky criminal underworld - a world he finds himself surprisingly good at navigating. But as the line of the law becomes blurred, how far will Jack go to find the answers - and what will it cost him?
Judas Horse 
Violent burglars have been terrorising residents across the English countryside. But when a mutilated body is discovered in a Cotswolds house, it becomes clear that this is no ordinary group of opportunist thieves.

As Detective Jack Warr investigates, he discovers locals with dark secrets, unearths hidden crimes - and hits countless dead ends. With few leads and the violent attacks escalating, he will have to act as audaciously as the criminals if he hopes to stop them.
Murder mile:
Jane Tennison, now a Detective Sergeant, has been posted to Peckham CID, one of London's toughest areas. As the rubbish on the streets begins to pile up, so does the murder count: two bodies in as many days. 
There are no suspects and the manner of death is different in each case. The only link between the two victims is the location of the bodies, found within a short distance of each other near Rye Lane in Peckham. Three days later another murder occurs in the same area. Press headlines scream that a serial killer is loose on 'Murder Mile' and that police incompetence is hampering the investigation.
Blunt Force 
Unceremoniously kicked off the adrenaline-fuelled Flying Squad, she's been relegated to Gerald Road, a small and sleepy police station in the heart of London's affluent Knightsbridge.

With only petty crime to sink her teeth into, Tennison can feel her career slowly flatlining. That is until the discovery of the most brutal murder Jane has ever seen: Charlie Foxley has been found viciously beaten to death, his body dismembered and disembowelled.
The Dirty Dozen 
Jane Tennison has worked hard to become the first female detective ever post to the infamous Flying Squad, or 'the Sweeney'. But the Dirty Dozen is a notorious boys' club, and Jane's new colleagues make it clear that they don't think a woman is up to the dangers of the job.
Payment & Security
Payment methods
Your payment information is processed securely. We do not store credit card details nor have access to your credit card information.
---
Security