Roll over image to zoom in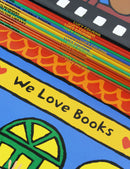 Titles in This Set:
Maisy goes to the Museum
Maisy goes on Holiday
Maisy Goes to the City
Maisy Goes Camping
Maisy's Christmas Eve
Maisy Goes to the Cinema
Maisy Goes to Nursery
Maisy Goes on a Sleepover
Maisy Goes To The Library
Maisy goes to hospital
Maisy Charley and the Wobbly Tooth
Maisy Goes by Plane
Maisy's Sports Day
Maisy Plays Football
Maisy Goes to the Bookshop
Maisy Goes to Hospital
Maisy has broken her leg playing on the trampoline, and now she's in hospital for the night. At first it's a bit scary being all on her own, but she soon makes friends with Dotty in the next bed, and when Cyril and Tallulah visit the next day, Maisy begins to feel much better!

Maisy Goes on Holiday
Each of the First Experiences series describes a common first experience within Maisy's familar and comforting world, offering a reassuring picture of something that might be new or less familiar. In Maisy Goes on Holiday, Maisy enjoys packing her suitcase, then meeting Cyril at a busy station and catching a train to the seaside. They have lots of fun on the beach and at the caf, write postcards to their friends and finally sleep a peaceful night at their hotel (after bouncing on the beds, of course).

Maisy Christmas Eve
It's Christmas Eve, hooray! And Maisy has invited everyone to celebrate at her house. Cyril and Tallulah are decorating the tree and Charley is helping with the food, of course! But where is Eddie? There's only one thing to do - go out into the snow and look for him! The CD features a reading of the story, festive songs and activities

Maisy, Charley and the Wobbly Tooth
Maisy, Charley and the Wobbly Tooth When Charley gets a wobbly tooth, he goes a little "wobbly" himself. But then Maisy takes him to see Dr Biteright - the really nice dentist - and he soon gets a smile back on his face.

Maisy Goes on a Sleepover
Maisy has been invited to her very first sleepover at Tallulah's house how exciting! She must pack her sleeping bag, her pyjamas and oh! let's not forget Panda! Lala is there, too, and together they dance, talk and play all day. They even have a special sleepover supper! Maisy never knew sleepovers could be so fun!

Maisy Goes to the Library
When Maisy goes to the library it seems like the perfect place to read her sparkly story. But there are so many distractions when you borrow a book - some of them extremely noisy! Maisy's day in the library proves quite an adventure.

Maisy Goes Camping
When Maisy sets off to go camping in the country, its only natural that all her friends come along, too. But they soon find that pitching a tent is not an easy thing to do. Even if they do manage to keep the tent up, theres the matter of fitting them all in Maisy, Charley, Cyril, Tallulah, and finally, the huge elephant, Eddie. What a squeezy squish-squash! Good night, campers! Uh-oh-whats that popping sound?

Maisy Goes to the City
Broom, vroom, beep! Maisy and Charley are in the city visiting their friend Dotty, and there are many things to get used to - noisy traffic, enormous buildings, and sidewalks so crowded they have to walk very slowly (all the better for looking in store windows). Riding the escalator and elevator - and hanging on tight in the subway - are almost as much fun as exploring the giant toy store and eating pizza in a cafe. Even the playground is busy in the city!

Maisy Goes to Nursery
Maisy loves going to nursery. There's so much fun to be had, with all her friends and their teacher singing at Music Time, a nap a Quiet Time, listening at Book Time and then Play Time in the Garden. What a day!

Maisy Goes to the Museum
Maisy Goes to the Museum Maisy and her friends find lots to enjoy on a fun trip to the museum! There's so much for Maisy and her friends to discover in the museum: collections of old toys, dinosaurs, cars, costumes... even a large mammoth - a favourite of Eddie's. 'Now for the food collection!' says Charlie, as he leads them to his favourite room... the cafe.

Maisy Goes by Plane
A story of flying for the first time from the multi-award-winning Lucy Cousins. Maisy is off on a journey to see her friend Ella, but Ella lives such a long way away. Maisy must go by plane and what an exciting trip it is! As she makes her way through security and steps on board, Maisy peeks in at the captain: what a lot of lights and buttons it takes to make a plane go! Maisy soon makes friends with Mr Percy and Betsy; and after drinks, magazines and a tricky toilet stop, the journey is over in no time!

Maisy's Sports Day
A story of experiencing sports day for the first time from the multi-award-winning Lucy Cousins. And they're off! Maisy and friends all join in for sporty fun and Ostrich referees – there is a red team and a blue team. The competitions include an egg-and-spoon race, a wheelbarrow race, a sack race, a relay race, a three-legged race and even a get-dressed-up-silly race! Loud cheers of support are coming from the sidelines, and a quick refreshment stop is needed! Plenty of fun is also had playing the hula hoop, quoits and the tug-of-war, where everybody falls down laughing! So much excitement with winners and losers, but everyone gets a medal in the end.

Maisy Plays Football
A story of a first football game from the multi-award-winning creator of Maisy. Today is a big day for Maisy and her friends as they head to the football pitch. Eddie, Cyril and Maisy are on the red team; Tallulah, Charley and Dotty are on the blue! The referee blows the whistle and they're off! Passing, diving and scoring, what an exciting game! The blue team have scored at half time, but what will happen next and who will score the next goal? Just wait for the final whistle! 

Maisy Goes to the Bookshop
A story of visiting the bookshop for the first time from the multi-award-winning Lucy Cousins. Maisy goes to the bookshop to buy a new book, and she also wants to get one as a present for her friend Tallulah. The bookshop shelves are packed full of amazing books! The shopkeeper is very helpful, too. Maisy finds her friends Charley, Cyril and Eddie inside. Everyone has so much fun choosing the books they love and imagining all sorts of wild and wonderful things
Maisy Goes to the Cinema

A story of going to the cinema for the very first time from the multi-award-winning creator Lucy Cousins. Maisy and her friends are off to the cinema to see the latest adventure movie:

 

Hero in the Jungle

. Eddie's most favourite movie star (

ever

), Troy T. Tiger, is starring and – ooh! – he can barely contain his excitement! In fact, he gets 

so

 excited that he 

shouts

 

at the screen. 

Shhhhhhh...

 

Don't you know you can't shout in the cinema, Eddie? Seating arrangements, the dark cinema, popcorn spills and a nail-biting hiding-behind-your-hands moment ... this is everything a first cinema trip is about
Payment & Security
Payment methods
Your payment information is processed securely. We do not store credit card details nor have access to your credit card information.
---
Security