Roll over image to zoom in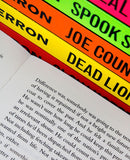 Titles in this set:
Slow Horses: Jackson Lamb
Dead Lions: Jackson Lamb
Real Tigers: Jackson Lamb
Spook Street: Jackson Lamb
London Rules: Jackson Lamb
Joe Country: Jackson Lamb

Slow Horses: Jackson Lamb
You don't stop being a spook just because you're no longer in the game.Banished to Slough House from the ranks of achievers at Regent's Park for various crimes of drugs and drunkenness, lechery and failure, politics and betrayal, Jackson Lamb's misfit crew of highly trained joes don't run ops, they push paper.

Dead Lions: Jackson Lamb
London's Slough House is where washed-up MI5 spies go to while away what's left of their failed careers. But now the 'slow horses' have a chance at redemption.An old Cold War-era spy is found dead on a bus outside Oxford, far from his usual haunts. As the agents dig into their fallen comrade's circumstances, they uncover a shadowy tangle of ancient secrets that seems to lead back to a man named Alexander Popov, and a decades-old conspiracy with a brand-new target: London's newest, tallest skyscraper . . .

Real Tigers: Jackson Lamb
Catherine Standish knows that chance encounters never happen to spooks.She's worked in the Intelligence Service long enough to understand treachery, double-dealing and stabbing in the back.What she doesn't know is why anyone would target her: a recovering drunk pushing paper with the other lost causes in Jackson Lamb's kingdom of exiles at Slough House.

Spook Street: Jackson Lamb
Twenty years retired, David Cartwright can still spot when the stoats are on his trail.Jackson Lamb worked with Cartwright back in the day. He knows better than most that this is no vulnerable old man. 'Nasty old spook with blood on his hands' would be a more accurate description.'The old bastard' has raised his grandson with a head full of guts and glory. But far from joining the myths and legends of Spook Street, River Cartwright is consigned to Lamb's team of pen-pushing no-hopers at Slough House.

London Rules: Jackson Lamb
London Rules might not be written down, but everyone knows rule one.Cover your arse.Regent's Park's First Desk, Claude Whelan, is learning this the hard way. Tasked with protecting a beleaguered prime minister, he's facing attack from all directions himself: from the showboating MP who orchestrated the Brexit vote, and now has his sights set on Number Ten; from the showboat's wife, a tabloid columnist, who's crucifying Whelan in print; and especially from his own deputy, Lady Di Taverner, who's alert for Claude's every stumble.

Joe Country: Jackson Lamb
Mick Herron is fast becoming the go-to author for British espionage, and the sixth novel in his Slough House series, Joe Country, is up to his usual high standard' Guardian

'We're spies,' said Lamb. 'All kinds of outlandish shit goes on.'

In Slough House memories are stirring, all of them bad. Catherine Standish is buying booze again, Louisa Guy is raking over the ashes of lost love, and new recruit Lech Wicinski, whose sins make him outcast even among the slow horses, is determined to discover who destroyed his career, even if he tears his life apart in the process.

And with winter taking its grip Jackson Lamb would sooner be left brooding in peace, but even he can't ignore the dried blood on his carpets. So when the man responsible breaks cover at last, Lamb sends the slow horses out to even the score.

This time, they're heading into joe country.

And they're not all coming home.
Payment & Security
Payment methods
Your payment information is processed securely. We do not store credit card details nor have access to your credit card information.
---
Security