Roll over image to zoom in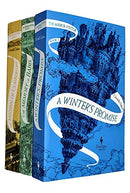 Titles In This Set:

The Memory of Babel
The Missing of Clairdelune
A Winter's Promise

The Memory of Babel:
After two years and seven months biding her time on Anima, her home ark, it is finally time to act, to put what she has discovered in the Book of Faruk to good use. Under an assumed identity she travels to Babel, a cosmopolitan and thoroughly modern ark that is the jewel of the universe, and where automata have taken over the most humble jobs from humans.
The Missing of Clairdelune:
When our heroine Ophelia is promoted to Vice-storyteller by Farouk, the ancestral Spirit of Pole, she finds herself unexpectedly thrust into the public spotlight. Now that her powers―and the threat they present to the secretive denizens of this new world―are known to all, she is forced to reveal the nefarious plots that have been brewing beneath the golden rafters of Citaceleste and to throw herself into the political machinations of the Pole.
A Winter's Promise:
Plain-spoken, headstrong Ophelia cares little about appearances. Her ability to read the past of objects is unmatched in all of Anima and, what's more, she possesses the ability to travel through mirrors, a skill passed down to her from previous generations. Her idyllic life is disrupted, however, when she is promised in marriage to Thorn, a taciturn and influential member of a distant clan.
Payment & Security
Payment methods
Your payment information is processed securely. We do not store credit card details nor have access to your credit card information.
---
Security